Nucleus brings intercoms, video calling to the smart home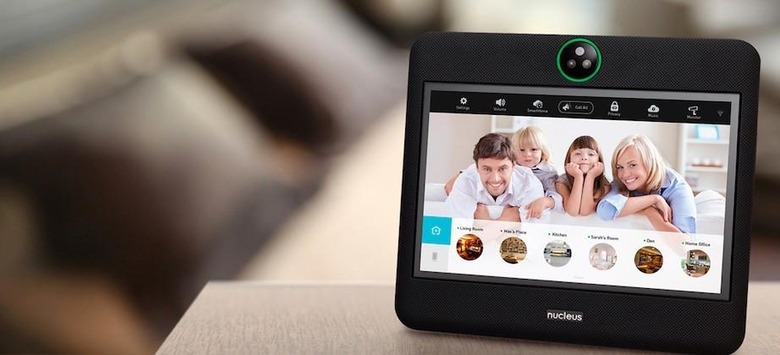 Nucleus (the name of both the company and the product) is a new device that aims to combine the best of video calling and home intercoms with voice commands. The mini tablet can be mounted to wall or just placed on a counter or table, and be used to connect and communicate with others in just seconds, bypassing even the steps that FaceTime and Skype users must go through before getting into a call.
In terms of functioning as an intercom system, with multiple Nucleus devices spread around the home, the company says a video and audio feed can be brought up within 200 milliseconds of giving the command. And while giving that command can be done via the 8-inch touchscreen, the voice commands are even quicker, with simple phrases such as "call the living room."
When it comes to making calls to others outside the home, Nucleus tried to eliminate any friction in order to make it "grandparent friendly." Using similar voice commands, a user could simply say "call grandma," and a connection would be made with the unit in a different location. iOS and Android apps are also available, letting users answer Nucleus calls even if they're not at home.
In terms of security and privacy, each Nucleus unit can be set to auto-answer or not, so the one in the kitchen will automatically pick up, but the one in the bedroom won't. Also, the cameras can be physically turned around, so those on the other end will only be greeted with a view of the wall until users adjust the position.
While not intended as a primary feature, Nucleus says the devices will be able to connect with home automation services including Nest, SmartThings, iControl, and three other unnamed platforms. The company is also trying to get support from a large streaming music service, but exact details, including which music provider it is, weren't revealed.
Nucleus can be pre-ordered from their website for $209, but they don't expect to begin shipping until spring 2016. Once they officially launch they will be priced at $249.
SOURCE Nucleus