Nuance updates Dragon Mobile Assistant app for Android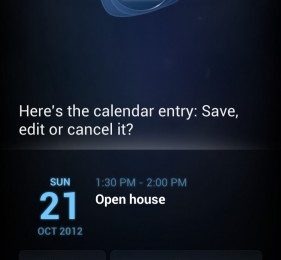 Nuance has announced that it has updated its Dragon Mobile Assistant app for Android users. The app originally debuted in late October and is sort of like an Android version of Siri. Nuance added some new capabilities and expanded availability for the app to Android users.
The newly updated app now supports Android 2.3 and higher. The updated app also allows people to do even more with their phone using the voice. The app now allows users to launch and play music, set alarms, and open apps using their voice.
The app uses Nuance's natural language understanding and directed search capability to allow Natural Language Commands to do specific tasks on the phone without having to touch the screen. To wake the app users say "Hi Dragon." After the app is awake and listening users can speak to send text messages, make calls, set appointments, and much more.
The updated features allow users to do things like say "Set the alarm to wake me at 6:30 AM." If you want to listen to a specific artist in your playlist, you can say "I want to listen to Metallica" or any other band or artist in your playlist. You can also open apps by saying "Open Angry Birds" or whatever other app you want. The updated app is available for download on the Google Play store right now.