NTT DoCoMo tips January 22 debut for Sony Xperia Tablet Z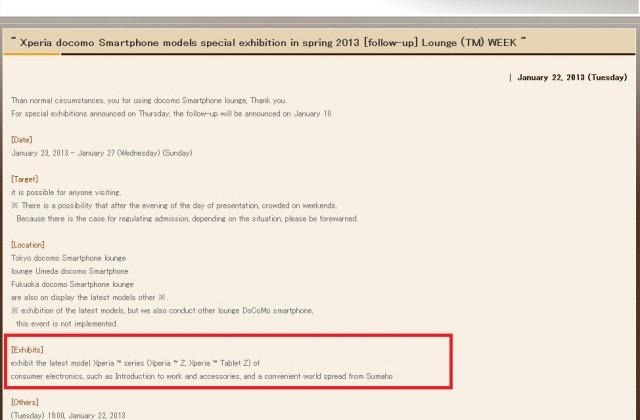 If you're a fan of Sony Android-powered tablets, you may have been interested when specifications for the Xperia Tablet Z leaked earlier this week. There weren't really any details on when this tablet might launch to go along with those leaked hardware specifications. Today some new details have leaked via Xperiablog.
The details come from NTT DoCoMo in the form of a page that appears to show the tablet debuting on January 22. It's hard to make out in the photograph above, but the red box surrounds text that says "exhibit the latest model Xperia series (Xperia Z, Xperia Tablet Z)..." I guess technically that is saying that the tablet will be on exhibition on January 22, not necessarily available to purchase.
January 22 is also reportedly known to be the day when NTT DoCoMo will be showcasing its new products for the spring of 2013. If you missed the details on the Sony tablet we mentioned earlier this week, it sounds like a decent enough Android tablet. The tablet will have a 10.1-inch screen boasting full 1080p resolution.
It will use a 1.5 GHz quad-core Snapdragon S4 Pro SOC paired with 2 GB of RAM. The tablet will also have 32 GB of internal storage and a 6000 mAh battery. The operating system will be Android 4.1 and the tablet is tipped to be ruggedized. We have no indication of how much the tablet might cost, but considering it's Sony branded it will carry a premium price.
[via Pocketnow]