NSA, SOPA, CISPA, PATRIOT Act under fire at rally in Washington, D.C.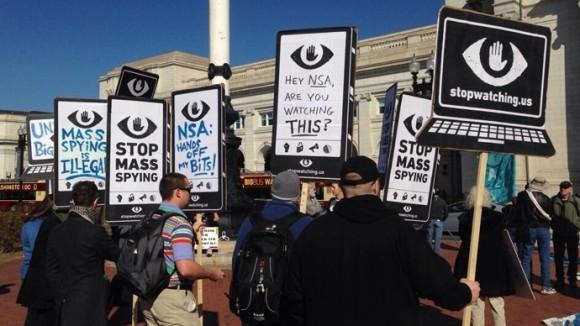 An organized crowd of protesters numbering more than a thousand have convened outside the U.S. Capitol in protest of mass surveillance programs by American spy apparatuses. The rally, which was organized by Stop Watching Us, focuses largely on Internet data gathering efforts by the NSA and other agencies. It is supported by Edward Snowden, the Electronic Frontier Foundation, and hundreds of other technological privacy advocates.
"We demand the U.S. Congress reveal the full extent of the NSA's spying programs," the organization's website states. Its goal is to raise awareness about mass surveillance programs, bring attention to the NSA and its data centers, and affect a change of laws. Specifically, SOPA, CISPA, and a section of the PATRIOT Act–laws which allow for secret spying on populations not suspected of a crime–are the objects of the rally's ire.
The rally occurs a few days after the release of a star-studded promo video about Stop Watching Us. The video features Pentagon Papers whistleblower Daniel Ellsberg, Phil Donahue, US Rep. John Conyers, Jr., David Segal of Demand Progress, a bevy of other whistleblowers and lawyers, and a string of big-name movie stars. It argues for the repeal of secret spying legislation.
The rally is accompanied by "sympathy protests" in Louisville, KY, Austin, TX, and Birmingham, AL. Internationally, eight cities in Germany are rallying against American spy programs, which collaborate with private companies like Facebook, Google, Comcast, and many others to secretly share private customer data with US law enforcement officials. The German government recently accused the US of spying on German chancellor Angela Merkel; in response, the nation will send intelligence officials to meet with US officials next week.
SOURCE: The Hill