Now you can use Android Auto without upgrading your car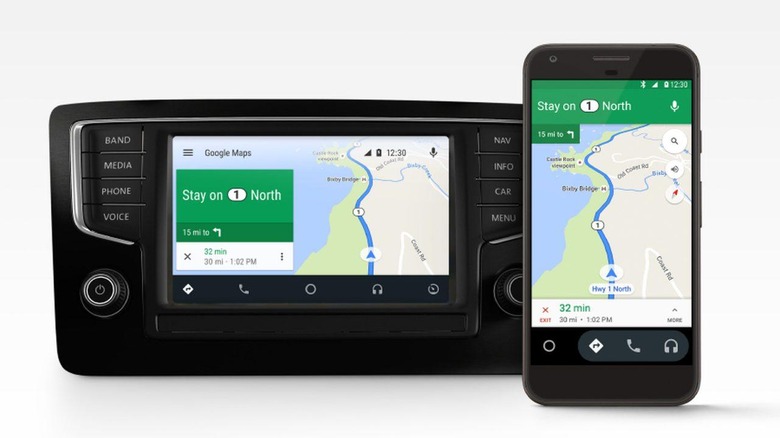 Android Auto looks set to show up on a lot more dashboards, albeit as a phone clipped to a mount rather than built into the native infotainment system. The interface, which pares back Android into a chunkier, more finger-friendly layout for use while driving, while hiding the more complex features that could prove a distraction, is being released as a standalone system, Google announced today. It's the closest we've got so far to an admission by the Android team that Android Auto adoption among automakers may not have been as swift as they would've preferred.
Android Auto launched in early 2015 as a feature of Lollipop. Much in the same way that Apple's CarPlay allowed iPhone owners to plug their smartphone into their car's systems and have it project a simplified interface into the built-in dashboard display, Android Auto promised a safer, more intuitive way of interacting with Google's OS. The system launched first on the Hyundai Sonata in May 2015.
Since then, several cars have added support for the system, though it's still not especially common. Google says Android Auto is now available on over 200 models of car, with more than 50 brands involved. They span the gamut from sensible sedan through to more luxury brands, too.
On those vehicles which do offer Android Auto – and, for that matter, CarPlay – however, it's often a paid upgrade, requiring a more expensive infotainment system than is installed as standard. Although Google has so far voiced nothing but enthusiasm for its automaker partners, today's news of a standalone Android Auto version seems a tacit indication that it's not willing to wait forever for them to play ball.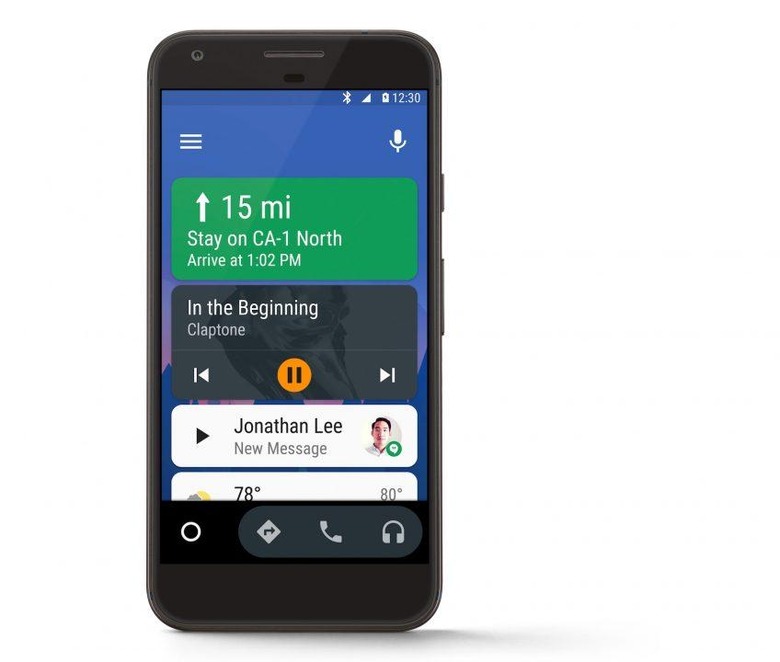 Instead, it'll be a standalone feature of any Android device running 5.0 or above. Functionally, Android Auto on phones will be much the same as it is when plugged into a car's infotainment system, only rather than using an in-dash display it'll rely on the smartphone's touchscreen. The same hands-free navigation, music, calling, and messaging support will be included.
In fact, there'll be more support for voice added over the coming weeks, the Android Auto team says. That includes enabling the "Ok Google" trigger phrase, so that Google Maps, Google Music, and other services can be summoned without ever touching the screen.
Android Auto 2.0 will also include Bluetooth launching. With a compatible mount – such as the Logitech SmartCar Mount – the interface can be set to load automatically whenever the phone is docked. Logitech's system uses a magnetic cradle which, with the right adapter on a smartphone, can hold the device in place without clips or brackets.
According to the Android team, the new Android Auto 2.0 is rolling out over the next few days, so if you're not seeing it right now then a little patience may be in order. Unfortunately, this doesn't mean that countries where Android Auto hasn't been offered so-far will be getting in on the system. Initially, at least, it'll be the 30+ locations where cars have already been served.