Novothink Solar Surge For iPhone And iPod Touch Debuts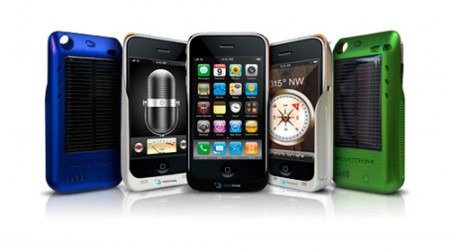 One day I hope that all my gadgets get power from the sun or other methods that don't require me to remember to plug them in. I like my iPhone, but the thing sucks down power when I play games on it like a boozehound with a fresh six-pack. If you are out all day with your iPhone or iPod touch and want some extra juice, Novothink has a new solar charger called the Solar Surge that is just for you.
The Solar Surge is a slip on case that is a bit reminiscent of the Mophie Juice Pack with an open top. The Surge has a solar panel on the back and an internal lithium ion battery that provides extra run time for your iPhone.
The Solar Surge can also be plugged into a USB port to charge when you aren't out in the sun. The iPhone version has a 1320mAH internal battery and the iPod touch version is 1500mAh. Both versions use smart changing to stop drawing power when the battery is full. 3G talk time on the iPhone using the thing is up to four hours longer than without it. The iPhone version is $79.95 and the iPod touch version is $69.95.