Novatel Ovation MC760 Micro Modem is tiny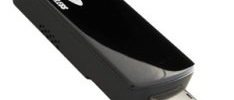 Well these just keep get smaller and smaller, don't they? Check out the new Novatel Ovation MC760 Micro Modem. This tiny modem is supposedly the smallest EVDO Rev. USB-powered unit, and it certainly appears to be so. But its compact size and moderately stylish looks are not all it has going for it.
In fact, the Micro Modem will also be equipped with an integrated GPS chipset and a microSD memory card slot. This will really add on functionality to a normally singular function device. A dual band antenna system will also be integrated for those times when you are not in a prime network area.
It is expected that the Novatel Ovation MC760 Micro Modem will make its debut on Sprint or Verizon before the year is through.