NOOK Tablet 7" challenges Amazon's cheapest Kindle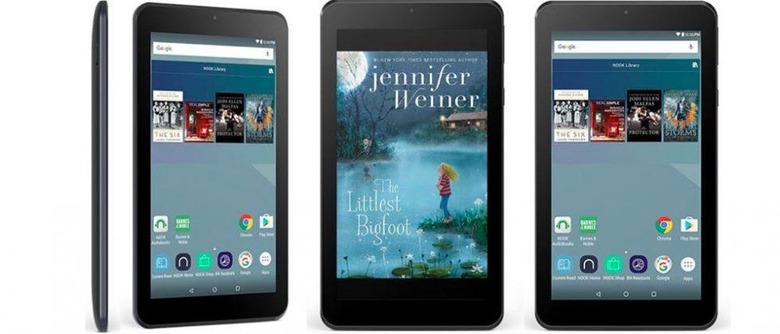 Barnes & Noble has introduced a new NOOK tablet to take on Amazon's cheapest Kindle offering. The item, much like the most basic Kindle Fire, is priced at $49.99 USD and features a 7-inch display. B&N says the new offering is a full tablet in the grandest sense of the word, including access to the Google Play Store and all the Android apps on it. That may make it more appealing than the Kindle Fire, which provides access to Amazon's Appstore.
The NOOK Tablet 7 is essentially an ordinary, cheap Android tablet with access to the NOOK Store, where one finds NOOK Audiobooks and NOOK Books (Barnes & Noble's alternative to the Kindle Store). This is officially the most inexpensive NOOK tablet available thus far, and it'll be available to purchase starting on November 25, aka Black Friday.
According to B&N, the NOOK Tablet 7 features a quad-core processor, 8GB of storage and 128GB expandable storage via a microSD card, a 7-inch display with a 1024 x 600 pixel resolution (171ppi), and up to 7 hours of battery life per charge. There's 802.11a/b/g/n dual-band WiFi, Bluetooth, and a 3.5mm headphone jack.
The tablet runs Android 6.0 Marshmallow, and according to B&N, it offers access to more than 4.5 million books in the NOOK Store. Because it is a full Android tablet, though, you could also download the Kindle app and use that to access any Amazon content you may have. Among the 80,000 digital audiobooks available through the NOOK Store, B&N says almost 9500 of them are free. There's also digital access to the top 100 U.S. magazines.
SOURCE: Barnes & Noble