NOOK Simple Touch with GlowLight Review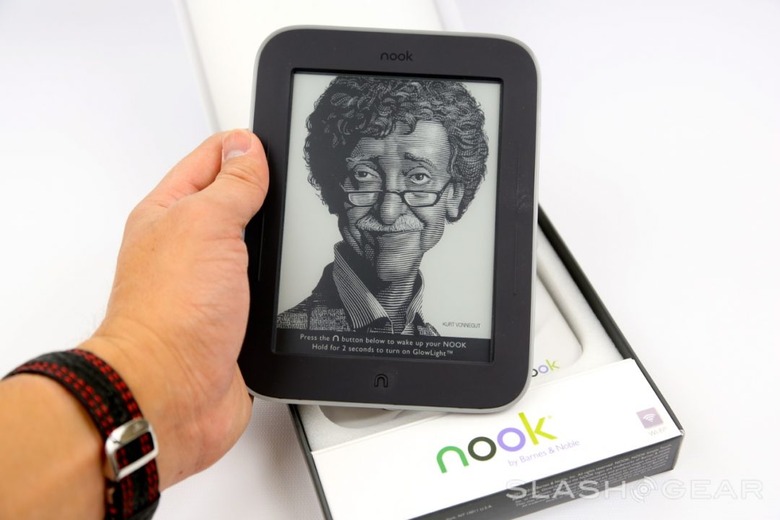 Bedtime reading with an e-paper based ereader has always been something of a throwback: either you leave the lights on, or you clip on a retro-style book light. The alternative until now has been a tablet, though many find that the same bright backlighting which makes screens look great for games, videos and browsing, doesn't work so well for casual reading. Into the fray steps Barnes & Noble with the NOOK Simple Touch with GlowLight, an updated version of the original Simple Touch ereader that pairs e-paper with a special frontlight system. Read on for the full SlashGear review.
Hardware
GlowLight display aside, the Simple Touch is generally unchanged from its non-frontlit predecessor. Its dimensions are identical – 6.5 x 5.0 x 0.47 inches – but it's actually 5-percent lighter, despite the new hardware additions. Inside there's an 800MHz TI OMAP 3621 processor paired with 256MB of RAM, 2GB of storage (with a microSD slot for up to 32GB cards) and WiFi b/g/n.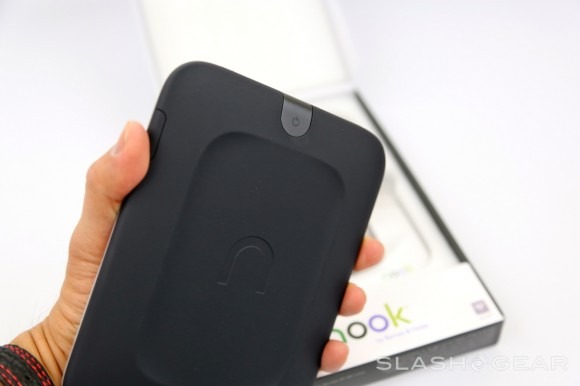 If you're an existing Simple Touch owner, you may notice a couple of changes side by side. The GlowLight version has a paler bezel, more of a grey than the charcoal of the regular model, and the 6-inch display – which still uses an infrared-based touchscreen system – has a different feel to it, slightly more textured.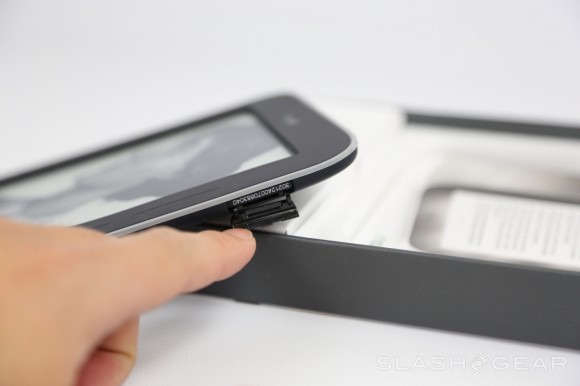 GlowLight
That leaves the big change being the screen, with B&N's GlowLight taking center stage. Rather than pushing light out through the panel from a backlight, as with an LCD-based tablet, an LED light source at the upper edge is spread out using the new top panel. The result is, in theory at least, a screen that's more comfortable to read over extended periods.
NOOK Simple Touch with GlowLight Demo
[vms 8e727785cb81b1aa08ac]
In practice, it's certainly far more comfortable than reading a regular tablet display for an extended period when in a low-light environment. Holding the "n" button below the screen down turns GlowLight on, and then a second tap opens up a settings menu where brightness can be adjusted. Hold down the "n" again and the frontlight shuts off. With a little adjustment to suit the ambient lighting, we were soon comfortably reading.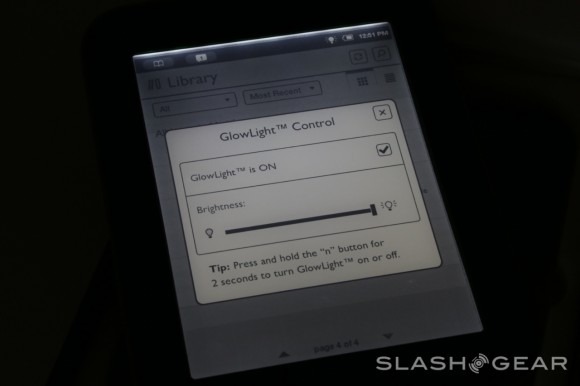 The new light diffuser on top of the screen does come with a cost for regular reading, however. As with any display, when you start stacking layers you lose out on clarity of the panel itself, and there's a dip in crispness noticeable when you're reading in regular light. Again, it's not a dealbreaker, but if you're never planning on using your Simple Touch in low-light situations, it might be worth opting for the non-GlowLight model, which remains on sale alongside this new version.
Battery
With the same battery in place as the regular Simple Touch, the new NOOK promises up to two months reading with GlowLight shut off. That's based on B&N's estimate of 30 minutes reading per day; read more frequently than that and you'll see less, of course. It also assumes you have the WiFi turned off; leave it powered on, and you're looking at a three week estimate instead.
With GlowLight turned on, B&N's estimates are chopped in half. One month of reading, with the frontlight active but WiFi off, for 30 minutes per day. Figure on less than half that if WiFi is enabled. We'll be reading hard over the next few weeks to figure out how accurate B&N's numbers are, but experience with the regular Simple Touch suggest the NOOK is capable of achieving them.
Wrap-Up
Barnes & Noble asks a $40 premium for the NOOK Simple Touch with GlowLight, over the regular model. $139 puts it on a par with rival touchscreen ereaders also using E Ink displays, though for the moment the GlowLight system is unique.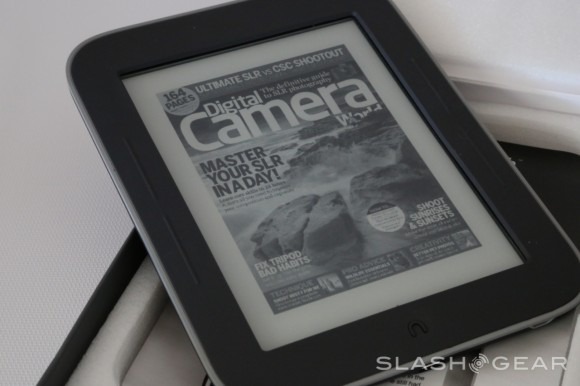 There's no doubting GlowLight works. What's really impressive is that it does so without adding to the bulk of the existing NOOK Simple Touch: no clunky clip-on lights, or eye-searing backlighting. The slight loss of some crispness thanks to the diffuser layer may frustrate some, but in our experience it – like with the momentary refresh delay inherent to e-paper screens – you soon come to ignore it.
Is the GlowLight the best NOOK so far? The NOOK Tablet still offers more flexibility with its LCD screen and broad app supports, and the regular Simple Touch is, at $99, arguably better for those on a budget. If you're a dedicated reader though, then the NOOK Simple Touch with GlowLight delivers the best of e-paper and LCD: a paper-like reading experience with self-sufficiency in its lighting. That's enough to make it a winner in our book. [Barnes & Noble]