Nokia X A110 (Android phone) details appear in early retail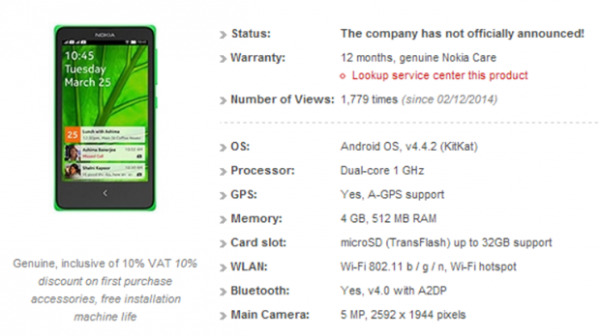 This morning a rather sizable leak has appeared overseas with a retail listing of Nokia's first Android phone. This device is called the Nokia X A110, according to the listing, and it's ready to roll with mid-tier specifications. The real big deal with this device – besides the fact that it'll likely work with Microsoft-made Android apps and Nokia's HERE Maps, is the fact that it comes in at around $110 USD off-contract.
This listing shows the Nokia X to roll in with "12 months, genuine Nokia Care" similar to comparable Nokia devices running Windows Phone 8. Here we're seeing the Nokia X working with Android 4.4.2 KitKat as well as a dual-core processor running at 1GHz. Also on tap is 4GB internal storage as well as 512MB RAM.
You'll be able to expand internal storage by 32GB with a microSD card slot, and this device connects with Bluetooth 4.0. That means low-power connectivity and A2DP, too.
NOTE: The listing was originally at MainGuyen via WMPowerUser, but it's been taken down now that the love has spread.
The Nokia X here is shown to connect with Wi-fi 802.11 b/g/n and a built-in Wi-fi hotspot – depending on your carrier, of course. There appears to be but one camera on this machine, on its back, 5-megapixels strong (2592 x 1944 pixels, that is). The lack of a camera up front allows this device to be rather inexpensive – the same goes for the display which is likely to hit upon 4-inches with a 480 x 800 pixel resolution.
This device will almost certainly be appearing at Mobile World Congress 2014 – we'll be there too – stick around and we'll be kicking out the hands-on before you know it!