Nokia unveils new Luna Bluetooth headset, complete with wireless charging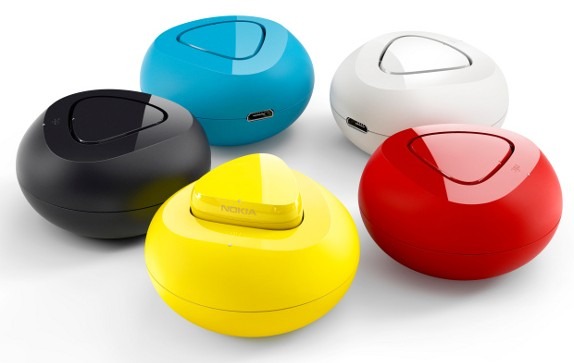 Yesterday saw no lack of accessory reveals for Nokia's incoming Windows Phone 8 devices, the Lumia 820 and 920. It seems that one was left out of the party, though: the new Luna Bluetooth headset, which is naturally recommended for use with Nokia's two new devices. Nokia unveiled the new headset today, giving us an ad with a rather bumping soundtrack to go along with the announcement.
Nokia is hitting the whole wireless charging deal hard with its line up of new Lumia accessories and devices, and it's no different with the Luna. The Luna appears to function just like any other Bluetooth headset, but there kicker here is in the ability to wirelessly charge. Just plop the Luna's cradle down on one of Nokia's new charging pillows or charging plates, and you're good to go (or at least you will be when your headset is done charging).
The Luna comes with Nokia's Always Ready technology, which takes care of powering up, connecting to your phone, and answering calls automatically once you remove it from the cradle. As is typically the case with Nokia peripherals, you have a range of colors to choose from, including blue, white, red, black, and of course, bright yellow. The battery in this tiny lil' beast provides enough power for up to 8 hours of talk time and 35 hours of standby, so the instances where you'll be on the verge of running out of juice will likely be few and far between.
However, those moments do happen, and just to be on the safe side of things, Nokia has included a micro USB port on the cradle for regular old wired charging should the need arise. There isn't any pricing or release date information available on the Luna Bluetooth headset yet, but we can probably expect it arrive around the same time as the Lumia 920 and 820. Stay tuned for new details, as we'll likely be getting more soon.
[via Fone Arena]