Nokia Point & Find object-recognition for cellphones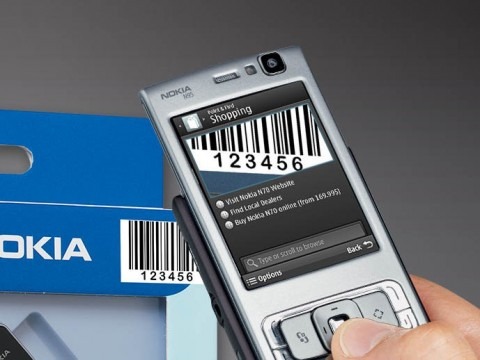 Nokia have announced Point and Find, a new app for Nokia handsets which can recognize barcodes and cinema posters.  The software uses the phone's camera, internet access and GPS to call up pre-programmed tags; that can then bring up local movie times, the ability to book tickets, and – eventually – price comparisons.
Nokia have made Point and Share an open platform, and are looking for partner companies to make compatible content and extend the app's capabilities.  Right now it's available to UK and US users as a free download in beta status. 
Currently Nokia Point & Find works with the following handsets: N82, N95, N95 8GB, N76, N81, N81 8GB, E51, E66, 6290, 6124 Classic, 6161 Classic, 6120 Classic, 6110 Navigator and 5700 XpressMusic.  You can download it from here.
Press Release:
Nokia introduces Nokia Point & Find, a new way to connect with information and services on the go

New platform enables businesses to engage with consumers in real time with relevant content

San Francisco, CA, USA – Nokia introduces an innovative service concept that enables people on the move to access relevant information and services on the internet, simply by pointing their mobile phone camera at real-life objects. A beta version of Nokia Point & Find, focusing on movies, is now available in the UK and US. Capabilities will later expand into other services and countries.

"With Nokia Point & Find, businesses are able to target engaging experiences and calls-to-action to consumers. We believe that this first Nokia Point & Find-based service for movies will add something special to the cinema experience. Simply by pointing their camera phone at a poster for a new movie, people can watch the trailer, read reviews, and find the closest cinema where it is playing," said Philipp Schloter, General Manager, Nokia Point & Find.

Nokia Point & Find is an open service platform on which other companies can build innovative customized experiences to drive better engagement with potential customers. Nokia is inviting businesses, content providers and agencies to discuss how the Nokia Point & Find service could help them with specific applications, campaigns or promotional activities. Unique experiences can be created through the self-service Nokia Point & Find Management Portal, or by working with the Nokia Point & Find professional service team.

Businesses have already recognized the potential for Nokia Point & Find in their campaigns.

Casey Harwood, Senior Vice President, Digital Media at Turner Europe said: "Nokia Point & Find is an innovative new service which will enable users to point their camera phone at various Cartoon Network related objects and receive relevant show or product information direct to their handset. In an on-demand world, this technology represents an exciting development for both content providers and consumers."

"BODY WORLDS appeals to adventurous and curious people of all ages. We see Nokia Point & Find as an intriguing new way for people to find out about BODY WORLDS & The Mirror of Time at the O2. By integrating this technology with our outdoor advertising in London we have created not just another special promotion, but also a chance to experiment with something quite innovative," said Nicky Hewgill, Marketing Manager, BODY WORLDS London.

"The Nokia Point & Find service marries the digital world with the physical world in a way that actually has meaning for brands and consumers. Not only does it allow consumers to engage with brands in an innovative way but provides brands 'point and purchase' opportunities with an on-the-go audience," said Julian Pate, Client Partner, AKQA.

Nokia Point & Find uses advanced real time image processing and recognition technologies to link the user to digital content and services. It also recognizes bar codes, integrates GPS positioning technology, and supports category-specific text-entry search. When the phone is pointed at an object, Nokia Point & Find uses a variety of the phone's capabilities including the camera, internet connectivity, and GPS positioning to evaluate the object. Then, by rapidly searching through a database of virtually tagged items, the system identifies the object and returns a set of links to associated content and services.

Companies interested in using Nokia Point & Find for their own campaigns can visit http://pointandfind.nokia.com to request further information. Nokia Point & Find's beta release is available for download into select mobile devices in the UK and US at http://pointandfind.nokia.com as well.