Nokia OZO camera adds live virtual reality broadcasting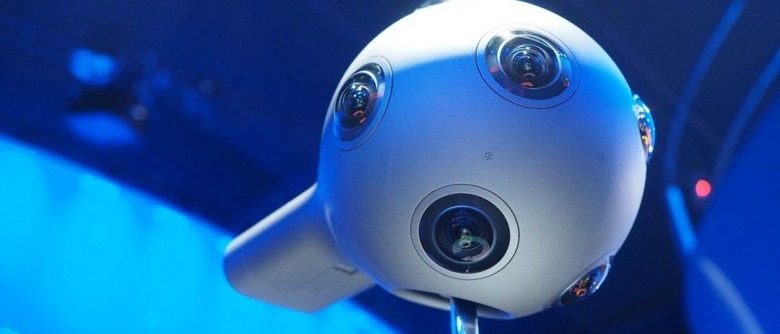 The Nokia OZO camera has been updated with some new features, chief among them being the addition of livestreaming in VR. This move means the camera can be used to record and broadcast VR footage for live events, with those at home watching using a 360-degree video viewer or their VR headset. As well, the camera now features 3D stitching, and a VR player SDK. The camera just recently started shipping to buyers.
Nokia OZO is one of several VR cameras that has hit the market — it is a single relatively small camera, circular in shape, with multiple lenses that capture footage from multiple angles. That footage is stitched together to form a single 360-degree video, which viewers can look around in by panning in, for example, YouTube's 360-degree video viewer or by moving their head while wearing a VR headset.
Nokia OZO is a $60,000 360-degree camera for VR pros
The live VR broadcasting feature is arguably the most exciting, and it'll be available to "selected partners" in the second quarter of this year before expanding to more people in Q316. Nokia showed off a demonstration of live VR broadcasting at NAB, and boasts more immersive realism with the inclusion of full 3D VR audio in real-time.
Starting this month, OZO Creator will provide 3D VR stitching for free to customers, enabling them to create 3D 360-degree videos with much less hassle involved. Finally, the second quarter of this year will involve the release of a VR player SDK; Nokia says it aims to make OZO content available on all the major VR platforms, with the SDK aiming to make that easier for developers.
SOURCE: Nokia