Nokia N79 Active with Bluetooth heart-rate belt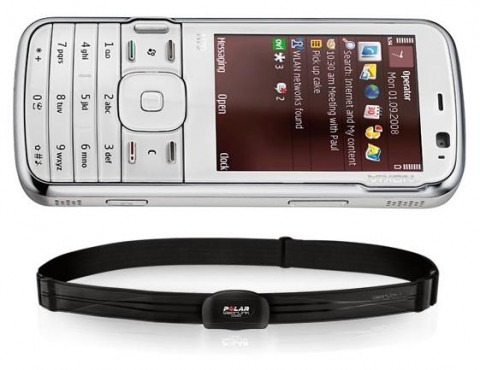 Nokia have announced a new bundle featuring one of their latest cellphones and a sports accessory.  The Nokia N79 Active set includes both the N79 handset and the Polar Bluetooth WearLink heart rate belt, which together with the new version of the Nokia Sports Tracker application allow you to monitor performance and map exercise then share those details online.
In addition you get a set of sports headphones, to use the N79 as an MP3 player, and an armband to carry the phone while you work-out.  The N79 uses its AGPS to monitor and record your route, which can later be uploaded to your PC and even shared with other fitness enthusiasts online; in addition, it can geotag photos taken with the 5-megapixel camera.
The Nokia N79 Active bundle will be available in "select markets" at an estimated €375 ($495).  Nokia Sports Tracker, meanwhile, will be available to download as soon as the Active bundles begin shipping; it's unclear whether you'll be able to use the software with other handsets paired to the WearLink belt. 
Press Release:
Nokia N79 Active gets your heart racing

High-end handset from Nokia meets wireless heart monitor from Polar

Espoo, Finland – Nokia today announced the Nokia N79 Active, which ships with the wireless Polar Bluetooth WearLink heart rate belt from Polar, the leading brand in sports instruments and heart rate monitoring.

This healthy addition to the Nokia Nseries range is the perfect running companion. A-GPS tracking and a new version of the popular Nokia Sports Tracker application – available simultaneously with first shipments of the device – spur you to record and publish your favorite routes and fitness data on the web. You can also share the tracks you listened to while working out, as well as upload and geotag route images taken with the Nokia N79 Active's built-in 5 Megapixel camera with Carl Zeiss optics.

"The Nokia N79 Active is all about fun and fitness," said Juha Kokkonen, Director, Nokia Nseries. "This handset keeps you entertained on those long workouts as you get in shape for next summer, while the Polar heart rate belt lets you know exactly how you're doing. And with Sports Tracker you can add a new social dimension to your fitness program by building up and sharing a great record of all your workouts. This is an inspiring way to track your progress and to challenge yourself and fellow workout partners."

"Polar is the number one choice for heart rate worldwide," said Marco Suvilaakso, Executive Director, Polar, Sports Business Area. "Now with the Nokia N79 Active, the comfortable Polar Bluetooth WearLink heart rate belt takes the guess-work out of training. When you can objectively see how hard your body is working, you can enjoy working out with a whole new level of confidence."

The Active version of the Nokia N79, the smallest Nokia Nseries device to date, ships with sporty headphones and an armband so you can keep yourself plugged in as you work out. A 4GB microSD memory card holds enough music even for those long endurance sessions. You can add new tracks to your playlists over the air from the Nokia Music Store or tune in to the radio with the handset's FM transmitter.

The Nokia N79 Active will be available in select markets for an estimated retail price of EUR 375 before taxes and subsidies.

About Nokia

Nokia is the world leader in mobility, driving the transformation and growth of the converging Internet and communications industries. We make a wide range of mobile devices with services and software that enable people to experience music, navigation, video, television, imaging, games, business mobility and more. Developing and growing our offering of consumer Internet services, as well as our enterprise solutions and software, is a key area of focus. We also provide equipment, solutions and services for communications networks through Nokia Siemens Networks.

About Polar

Polar, founded in 1977, is the leading brand in sports instruments and heart rate monitoring through the long-term experience and profound understanding of human physiology and environment. Since launching the world's first heart rate monitor for sports professionals and athletes in 1982, the company has been pioneering a revolution in training and consistently leading the field in the innovation, design and production of advanced training computers and heart rate monitoring equipment.

Today, Polar provides the most comprehensive range of wireless training computers in the industry, delivering state-of-the-art solutions for active people all the way up to the championship level. The company has a culture of innovation, original thinking and a single-minded determination to deliver leading-edge training technology and solutions of the highest quality for those who seek fitness and sports performance. Headquartered near Oulu in Finland, Polar operates internationally in more than 80 countries. For more information, please visit www.polar.fi.