Nokia N75 leaks again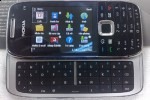 In the run-up to Mobile World Congress it seems like there's nothing but cellphones around; latest leak is an old favorite, the Nokia E75, which has already appeared twice (first here, and then here) and by now is well overdue a launch.  There's not much we've not seen about this side-sliding 3G smartphone, but given how distinctive it is among Nokia's current line-up we love it all the same.
Aside from the QWERTY keyboard and the separate number pad, the Nokia E75 has a 2.4-inch 240 x 320 display, a 3.2-megapixel camera, both HSDPA and WiFi connectivity and A-GPS.  There's also a microSD slot with support for SDHC cards (presumably up to 32GB), a 3.5mm standard headset jack and the 60 3rd Edition FP2 OS.
Considering how finished the handset looks, it can't be long before an announcement gets made.  We're betting a farm (not the farm; we need the chickens) that the E75 is one of Nokia's special guests at MWC in less than two weeks time, at which point we'll hopefully get a full spec list, availability and pricing details. 
[via Boy Genius Report]