Nokia Lumia 820 hands-on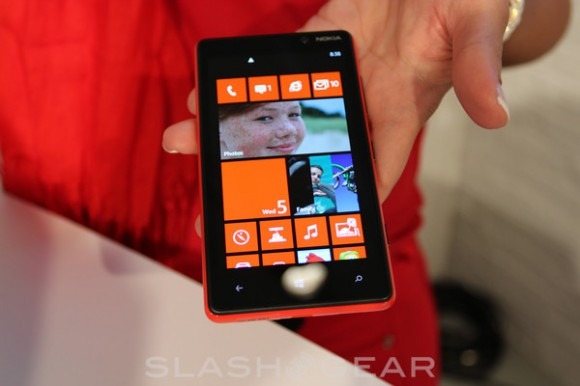 Nokia's just announced its latest stable of Windows Phone handsets, including the new Lumia 820 and we were lucky enough to get our hands on it for a few moments. After countless leaks this budget smartphone is finally official. Not to be overshadowed by the larger brother in the Lumia 920, the 820 has plenty going for it — like Windows Phone 8 — so lets take a look.
First off you instantly can both see and feel the difference compared to the larger Lumia 920. While the design is similar the newer rounded edges make it feel much more familiar and less severe in the hands. Nokia's usual attention to detail combined with the new Windows Phone 8 makes for a refreshing new smartphone that has a familiar touch at the same time.
Again, compared to the larger brother the Lumia 820 offers an overall solid package coming in slightly smaller at 4.3-inches while not compromising on power and performance. You won't have an HD display, or the new PureView camera technology here but the Lumia 820 is aiming for a more budget friendly crowd. Complete with a crisp and vivid 4.3-inch WVGA 480 x 800 resolution display it certainly isn't the biggest, but feels right at home with their previous launches.
Unlike the 800 and new Lumia 920 this version doesn't enjoy the sleek and curved edges to the glass. Instead you are greeted with a plain-Jane flat panel but that doesn't hinder the experience so far from our initial first impressions. Other specs include the same 1.5 GHz dual-core Qualcomm Snapdragon S4 processor as its bigger brother, 1GB of RAM, 8 megapixel camera and 4G LTE will be available in supported locations too. Nokia will offer a wide array of color options as the polycarbonate back is removable. This will give you different color options for any occasion, as well as support for their new wireless charging standard.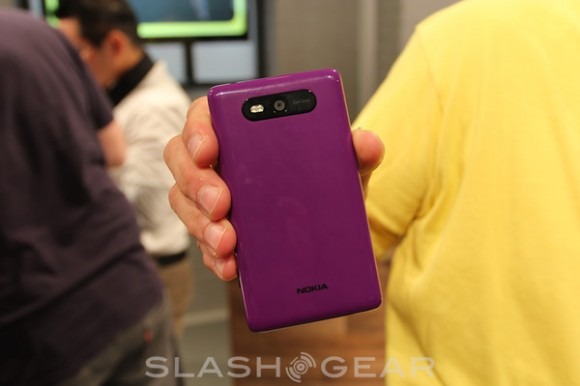 Speaking of the back. Nokia's previous matte colors were always a favorite of ours but the new Lumia 920 and 820 have a slightly different look to them. Adding a bit of glare and polish to their colors we can certainly see fingerprints being more of an issue than previous models — but that is just nit picking.
Now regarding Windows Phone 8 which is running wonderfully here, Microsoft says it still isn't quite ready for prime-time but after a few quick minutes we instantly noticed the improvements. The user interface is extremely fluid and polished, and animations were butter smooth. Google snagged the use of "butter" when describing Jelly Bean, but Windows Phone 8 certainly has some buttery smooth performance here.
Nokia's exclusive apps helps round out the Windows Phone experience but with the combination of their improvements to the new and improved Windows Phone 8 the platform is really starting to come together. My only gripe with the Lumia 820 could have to be the display. While it is 4.3-inches the lower resolution is a let down. We don't have IPS or Samsung's AMOLED here so it's pretty generic compared to most from Nokia. The Lumia 820 and 920 have been announced but no specific dates or pricing was revealed at this time. We'll know more on pricing and official details later which will give us a better idea of where to stack this against the competition.
UPDATE: Nokia Lumia 820 hands-on extended cut video added: