Nokia Lumia 800 Hands-on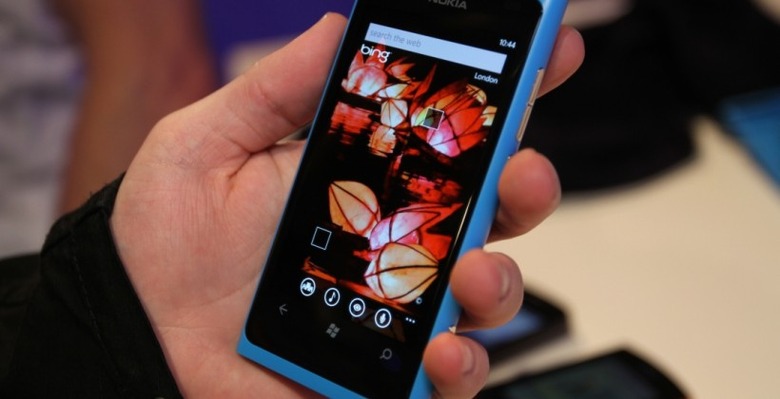 Nokia has just made its first Windows Phone range official, and we wasted no time in spending some playtime with the flagship model, the Nokia Lumia 800. Borrowing heavily from the N9 design we've already waxed lyrical over, the Lumia 800 casing is milled from a solid piece of polycarbonate but gains some extra buttons and controls to suit Microsoft's platform. Read on for our first impressions.
We can't argue with the Lumia 800's quality. The smartphone feels pretty-close to perfect in the hand, the gently curved casing – Nokia would probably describe it as "pillowy" – making for an easy to hold and sturdy feeling device. The 3.7-inch touchscreen's ClearBlack technology shows off the Live Tiles well, with their black background seamlessly blending into the bezel, and the phone – despite the single-core processor – felt speedy as it whipped through the Start list.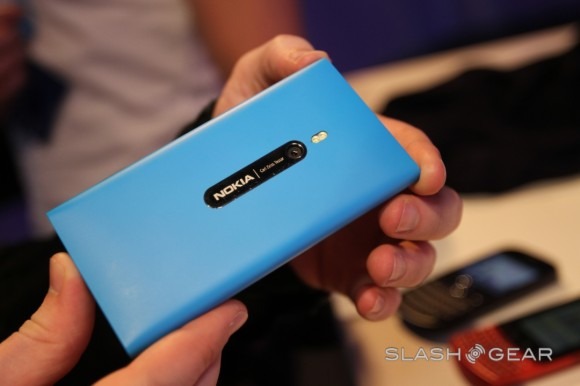 Nokia's custom apps will initially include Nokia Drive, for turn-by-turn navigation, and Nokia Music, for streaming mix playlists. The ESPN-powered sports hub will follow on later. Nokia Drive is little changed from the MeeGo version, impressing us with its ability – along with the Lumia 800's GPS hardware – to lock onto a position and pull in mapping data almost instantaneously, despite our being buried in the depths of a convention center. From there it's a familiar matter of picking a destination using the easily jabbed-at UI – complete with oversized buttons perfect for when the Lumia 800 is dashboard-mounted in your car – and then following either 2D or 3D maps with spoken directions.
Nokia Music is likely to be popular among those tempted by streaming music services such as Spotify, but wary of the monthly cost. Subscription-free, it offers a selection of Mix Radio playlists, each with a range of tracks that have been specially combined to suit your location and other factors. Tap the playlist and it plays instantly – no registration required – and we could easily press-hold on a tile, choose to sync it for offline play, and then pin the playlist to the start screen for easier access next time. Obviously you don't get the full flexibility of something like Spotify's full music catalog, but it's a lot more usable than a traditional FM radio. If you'd rather listen to your own music, there's 16GB of internal storage.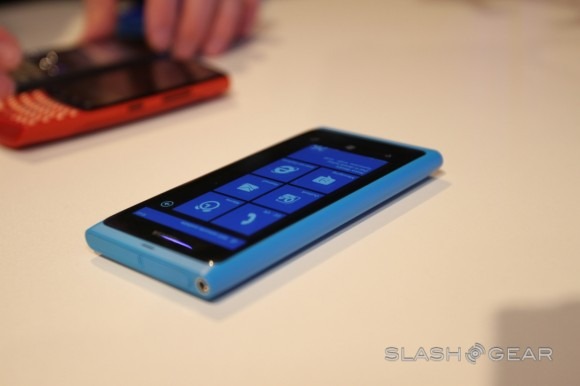 Otherwise this is generally Windows Phone 7.5 Mango as we've seen before, Microsoft's smartphone platform continuing to represent the "unusual option" amid the mobile crowd. We can't deny we have a soft spot for the OS, and the interface looks great on Nokia's hardware. What will undoubtedly make the difference is how well the Lumia 800 is positioned in stores: Nokia reckons it has dozens of carriers onboard and a hefty training and marketing budget to try to encourage retail staff to at least consider promoting Windows Phone instead of solely iPhone and Android. That Nokia will have the Lumia 800 in stores by November – for the initial roll-out at least, which unfortunately doesn't include the US – can't hurt that either.