Nokia's Lumia Windows Phone offerings come in a variety of flavors, each similar to the other but unique in their own ways. Among them all is what appears to be an upcoming budget handset option, the Nokia Lumia 630, which has had a few specifications leak on the Chinese website Baidu.
The information was spotted by the Chinese website Winp.cn, which nabbed a press image, as well, the one featured below. The Nokia Luma 630 is featured on the left side, with the Lumia 1320 getting center showcasing and the Lumia 1520 being detailed on the right. Judging by the image and the details that are known, the 630 appears to be a budget-centric handset.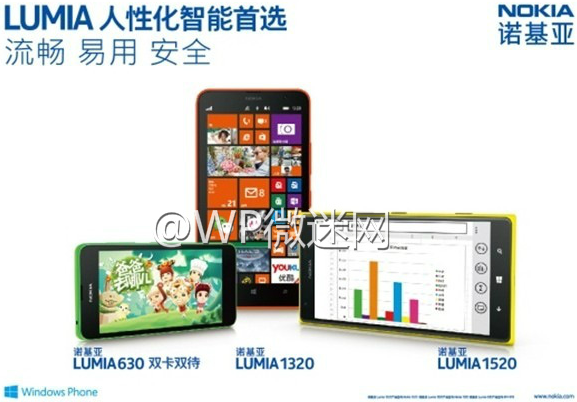 Note: The header image at the top of the article is of the Lumia Icon.
Not much is known about the handset at this point, but according to one of the images posted on Baidu, the Lumia 630 will feature a 4.5-inch display with a decent enough resolution of 854 x 480 pixels. Under the hood with be the mid-range Snapdragon 400 processor accompanied by 1GB of RAM.
Also among the specifications leak is word that the Lumia 630 will be running Windows Phone 8.1 out of the box, which would make it one of the first models to boast this. Winp is reporting that it will be a dual-SIM model, and that it'll be arriving in China in the middle of April.