Nokia Lumia 610 restricted from more Windows Phone apps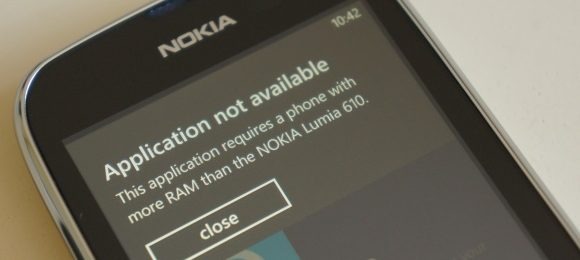 The Nokia Lumia 800 and 900 have made some waves across Europe and the United States, but one area that the Finnish smartphone manufacturer is keen to attack is the low-end of the market. Microsoft opened up Windows Phone to devices with lower specifications, prompting phones like the Lumia 610 with an 800Mhz processor and only 256MB of RAM to play with. Looks like Skype isn't the only app having problems with the meagre amount of memory.
The Lumia 610 is starting to ship to customers across Europe, and already reports are coming in that more apps are being restricted on the handset. Last week Nokia and Microsoft pulled Skype for the Lumia 610, but other apps including Angry Birds, PES 2012, and Tango refuse to install. When you browse those options on the market, you're greeting with a message that the app "requires a phone with more RAM than the Nokia Lumia 610."
We've confirmed that these apps are unavailable on our Lumia 610 review unit, and have run into a few others that won't install either, including the official Google app. Microsoft say that only around 5% of apps won't be able to run on the 610, but so far everything that refuses to install seem to be quality apps that would showcase the platform. Not only that, but we've run into problems with apps that require a lot of caching – such as IMDB and Nokia Maps – crashing under load.
It presents a huge problem for Microsoft going forward: if developers don't (or worse, can't) tweak their apps to run on 256MB of RAM, it sets a dangerous precedent for the platform and presents a bad user experience if consumers can't get their hands on apps that help sell the OS. We can only wait and see what happens going forward, but this should be a big concern for Microsoft and developers.
[via The Verge]