Nokia Lumia 2520 Tablet Official: Windows RT And LTE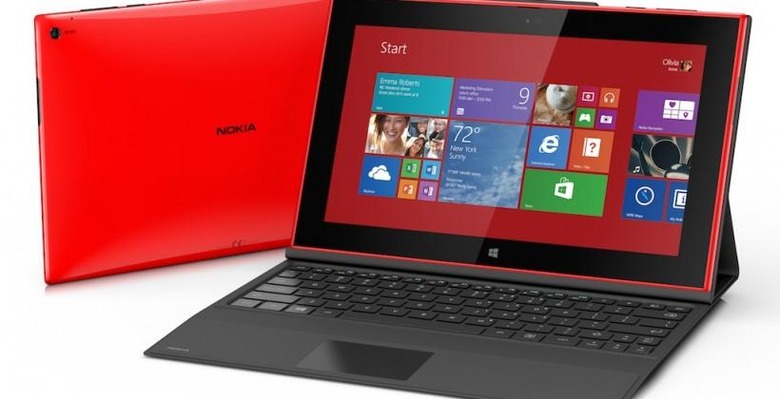 Nokia has revealed its much-anticipated Windows RT tablet, the Nokia Lumia 2520, a 10.1-inch slate pairing the distinctive and colorful design of the company's Windows Phone range with LTE as standard and a suite of homegrown apps. Revealed today at Nokia's Dubai event, the Lumia 2520 has a special Full HD display that runs at up to 650 Nits brightness for outdoor usability, and will come in at a competitive $499 pre-subsidies. Meanwhile, there's a full bundle of apps and even a Power Keyboard accessory with QWERTY, an integrated battery, and USB ports.
Inside the polycarbonate plastic casing there's Qualcomm's Snapdragon 800 MSM8974 processor with LTE and WiFi. Nokia has opted not to make a WiFi-only version, arguing that the market for a connected tablet is more the niche it is aiming for. The 615g slate has tapered edges to make it feel more slimline in the hands, but still manages to accommodate an 8,000 mAh battery which Nokia claims should deliver 8-10 hours of runtime with LTE switched on.
There's no wireless charging but Qualcomm's fast-charging is supported; Nokia say says the Lumia 2520 should go from flat to 50-percent in around forty minutes, or to around 80-percent in an hour, ideal for last-minute recharges while you're waiting at the gate for a flight. Connectivity includes microUSB 3.0 and an HDMI port on the tablet itself, while there's NFC and GPS inside.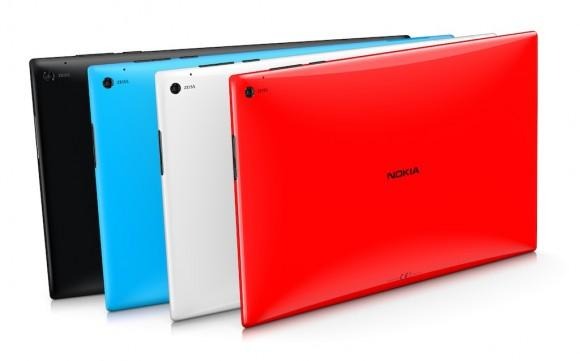 Stereo speakers and a 2-megapixel camera are on the front, while on the back of the tablet there's the same 6.7-megapixel camera from the Lumia 720 smartphone. That has f/1.9 Zeiss optics and supports Full HD video recording. Nokia claims its display is not only brighter than those of rival tablets, but less reflective thanks to a special coating: 5-percent reflectance, in fact, versus 7- to 8-percent reflectance on the iPad. A polarizer, meanwhile, promises better indoor visibility.
Storage is 32GB, though there's no expanding that as Nokia hasn't included a microSD Card slot. Instead, there's cloud storage or plugging in a USB drive, either to the port on the Lumia 2520 itself or one of the two USB 2.0 ports on the optional Power Keyboard accessory.

The Power Keyboard folds across the display for protection but has an extra magnetic flap compared to similar keyboards for other tablets; it adds 150g to the slate. That not only helps keep the cover closed, but gives space for a multitouch trackpad underneath the QWERTY layout. On the back are the two USB ports, while inside there's a 15Whr battery which Nokia says should add a further 5hrs of runtime to the Lumia 2520.
Windows RT has suffered from a shortfall of apps, certainly in the key categories where iPad and Android has delivered, but Nokia has taken matters into its own hands for the Lumia 2520. The tablet has a special large-screen version of Nokia Storyteller, the company's new photo journal app as launched on the Lumia 1520, which pulls together photos taken in similar locations and picks out the best shots to highlight. It also displays nearby points-of-interest curated from HERE Maps.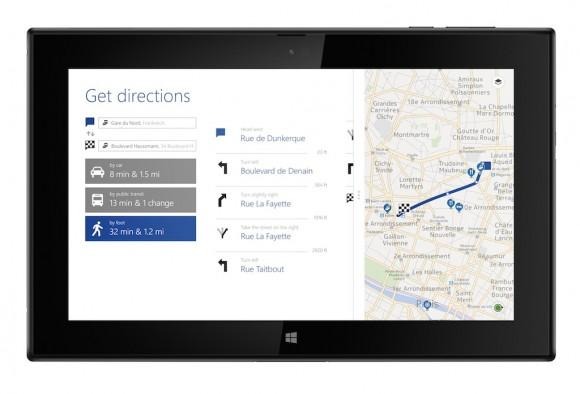 However, owners of both the 2520 and the 1520 will be able to pair up the phone to the tablet using NFC, and browse the Storyteller galleries on the Windows Phone from the 10-inch screen of their tablet. There's also the ability to hook Storyteller into Facebook and SkyDrive.
Nokia's other apps include HERE Maps for Windows tablets, with the ability to synchronize points-of-interest and favorite locations between the Lumia slate and smartphones, in addition to Nokia Music which will offer an alternative to Xbox Music, with free, downloadable playlists from custom and curated radio stations.
Most interesting, however, is Nokia Video Director. Effectively the company's take on iMovie, the video editing app can use video shot either with the Lumia 2520 itself, from a smartphone, or any other source plugged in via USB. Nokia says it worked with Hollywood trailer experts on the styles, transitions, and effects that can be added, while background music can be added from the Lumia 2520's library. Clips can be reorganized and trimmed, and then shared – with various resolution options – via SkyDrive, email, Facebook, or other routes.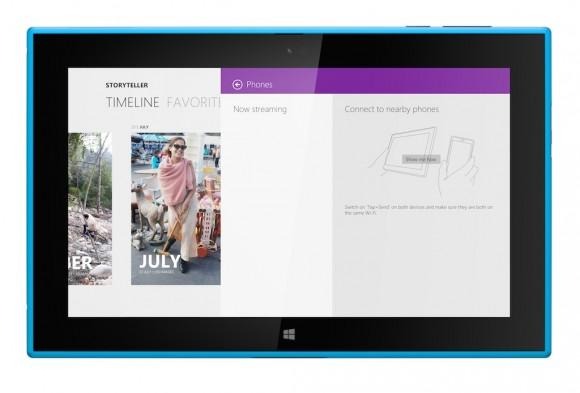 There'll also be a new game, Dragons Adventure, built in partnership with Dreamworks and the "How to Train Your Dragon" franchise. Using Nokia's Commuter platform, the game aims to distract kids during the school-run, using GPS to create a game environment on the tablet based on the roads around the car.
Data from the Weather Channel is used to match the game conditions to those in real life; if there's traffic, the path on-screen gets muddy. A virtual dragon can be dispatched around the car to collect objects, with an augmented reality view of them in action; meanwhile, the driver's Lumia can be paired via NFC to see the current challenge while Nokia Drive keeps delivering directions in the background.
The Nokia Lumia 2520 tablet will go on sale in the US, UK, and Finland in Q4 , though Nokia is yet to confirm which carrier partners it is working with and what sort of subsidies on the basic $499 price they'll be offering. Color options will include glossy red, glossy white, matte cyan, and matte black. As for the Power Keyboard, that will be priced at $149.