Nokia Instant Community: ad-hoc networks for chat & media sharing [Video]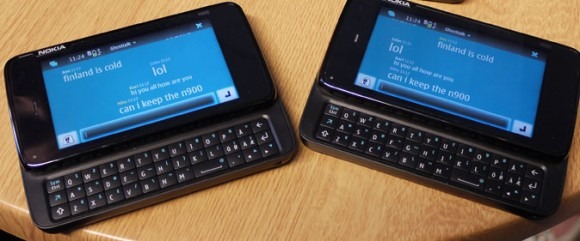 Nokia Research have been showing off a new technology designed to create impromptu WiFi mesh networks for chat and media sharing, and it's far more interesting than their partnership announcement with Yahoo! yesterday.  Wired grabbed a hands-on with the Nokia Instant Community system, which automatically creates ad-hoc WiFi connections between nearby devices; each device acts as a repeater, meaning the network could theoretically spread throughout a stadium or hall.  Initial apps include group text chatting together with photo and video sharing.Updated with video after the cut
While text messages are pushed across all devices, photos and videos are offered as links.  There's a latency involved, of course, when you're routing data through a series of interconnected devices; those in the middle of the route will likely experience slow-downs as larger files are transferred.  However, Instant Community can also fall back on a regular WiFi network, if available, if it decides that would be quicker overall.
Nokia reckon the system could be useful at sports or concert events, with the audience sharing not only their opinion of the performance but photos and video with each other; that way you could see a different perspective of the pitch or stage.  Of course, applications themselves would be up to developers.
Instant Community is currently being demonstrated on N900s ironically running MeeGo, but is also apparently up and running in a Symbian version.  Best of all, though, is that it's been developed as an open platform – on top of which compatible apps can be built – and Nokia's researchers are hoping other companies will adopt it and broaden device support.  No word on when we might see it released, if Nokia decide to green-light the project.
Update: Nokia Conversations have a demo video: