Nokia HERE Drive+ hits rivals' Windows Phone 8 handsets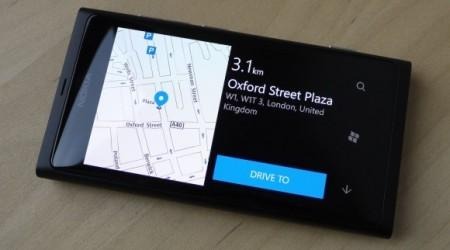 Nokia will offer its HERE Drive+ and HERE Transit navigation apps to Windows Phone users who didn't opt for a Lumia, though they'll have to pay if they want turn-by-turn directions. The news sees HERE Drive arrive in the Windows Phone Store for the US, UK, Canada, and several other markets as a free download, though global navigation is an in-app purchase for €15.49 ($19.90) or the local equivalent.
Those in Canada, France, Germany, Italy, Mexico, Spain, UK, and the US will be able to download the HERE Drive app, while those Lumia 720, 520, and 521 owners will be able to get the version with local navigation, again at no charge. 720, 520, and 521 owners will have to pay €15.49 for global navigation, however, just like their non-Nokia counterparts.
As for HERE Drive+, that will be offered free – with global navigation – for the Lumia 928, 925, 920, 822, 820, 810, and 620.
However, if other Windows Phone 8 users, such as those with handsets from HTC or Samsung, want HERE Drive+, they'll need to cough up €34.99 ($45) or the equivalent in their local currency. It will be available more broadly than the basic HERE Drive, though, with a global release.
The other navigation app Nokia is offering is HERE Transit, the company's public transportation software. That shows options including buses, trams, tubes, and other methods of getting around cities, and common routes can be pinned to the Windows Phone homescreen with upcoming departure times flagged up on the Live Tiles.
All of Nokia's Lumia Windows Phone 8 handsets get HERE Transit free. Those using handsets from other Windows Phone 8 OEMs in Canada, France, Germany, Italy, Mexico, Spain, UK, and the US can also get it free, while those in Australia, China, Denmark, Finland, Hungary, Netherlands, New Zealand, Norway, Russia, and UAE will have to cough up €1.99.
If that all sounds confusing, Nokia has a handy chart – which you can see below – setting out which options are available where, and to whom, and how much they cost.