Nokia grabs Windows Phone top sales spot
Nokia is the number one Windows Phone manufacturer in terms of sales, according to analysts, overtaking HTC after having its Lumia phones on the market for just one quarter. Microsoft saw 2.7m Windows Phone device sales in Q4 2011, according to Strategy Analytics' figures, of which sales of Nokia devices like the Lumia 800 contributed 33-percent.
The main loser, the analysts say, is HTC. Nokia and Microsoft's broad promotional campaign for the Lumia devices saw them eat into HTC's Windows Phones, which contributed to an overall 1.8m unit from non-Nokia OEMs.
"Nokia's Microsoft smartphone growth during the quarter was achieved partly by capturing market share from HTC. This is a challenging development for HTC because it is also losing ground to Samsung in the Android segment. HTC is now at risk of being caught in a pincer movement between two giants of Samsung in Android and Nokia in Microsoft, and HTC must move with urgency to address the problem" Tom Kang, Director, Strategy Analytics
Still, it's worth remembering that it's some time since HTC outed a new Windows Phone, instead focusing on Android devices for the past few quarters. In fact, there has been little in the way of WP7 enthusiasm from OEMs outside of Nokia, aside from a flurry of OS upgrades when Microsoft pushed out the 7.5 Mango update late last year.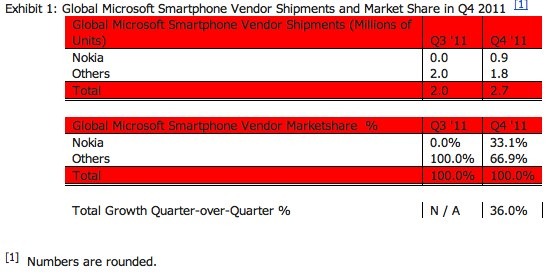 "Nokia is by no means out of the woods yet, and it is still on a long road to recovery, but capturing top spot in the Microsoft smartphone ecosystem is an encouraging baby-step forward for the company" Strategy Analytics conclude. The Finnish company is expected to reveal another two handsets at Mobile World Congress next, week, including a global version of the Lumia 900 and a new, budget device, believed to be the Lumia 610.