The Nokia E62 Review- smartphone for the masses?
Mobile productivity fanatics are having a good Fall 2006- along with the Motorola Q and the Treo 680, Nokia has also jumped into the game with a smartphone meant to reach more than just the average business consumer. As first reported by SlashGear on September 12th , and regardless of their hopes, the Nokia E62 is another productivity-driven smartphone that is most suitable for business people on the go. Released on September 29th and available exclusively through Cingular Wireless, the E62 is the U.S. version of the E61, which has been available in Europe since earlier this year. Nokia designed the E62 as an attempt to bridge the gap between corporate users and everyday people, and priced it at an affordable $199 with a 2-year contract, and even as low as $150 with a mail-in rebate from Cingular.
Lots of pictures and an in-depth review after the jump...
First, let's discuss the fun stuff. At a slim 0.7 inches, the E62 is thin enough to stash in a pocket, and its wide, high-resolution screen displays 16 million colors, making it an excellent choice for media playing and internet browsing. Video was crystal-clear, and going back and forth between web pages was especially easy with a screen capture feature that you can scroll through to go back to the page of your choice. IM was a breeze with the roomy QWERTY keyboard and software included for AIM, Yahoo! and MSN messaging services. Though surprisingly sophisticated, the audio player was unpleasant to listen to due to the lack of stereo speakers. An included headset with two earbuds instead of one would have also helped lend the E62 more credibility as an MP3 player. Viewing pictures was a breeze, but only after transferring pictures from my laptop with Nokia's included PC Suite software. I was able to transfer photos and other data easily through an included USB 2.0 cable, Bluetooth and Infrared, but I think this model would have been complete with an onboard camera.
Productivity-wise, the E62 is ahead of the pack for its price point. I was impressed to find the Symbian 9.1 OS was fully-equipped with applications designed to view, create and edit documents in Microsoft Office (including Powerpoint presentations), a feature not available on the much-hyped Motorola Q. The PDF reader was also a help, but let's talk about the number one reason to buy an E62- complete mobile email support. Setup is a breeze, an email hot key provides one touch access, and a light at the top right corner of the E62 notifies of incoming emails. Though still not the ultimate combo of media, internet and productivity support, the E62 is a powerful contender even up against Blackberrys at double the price.
Reasons to Buy:
*Instant, painless access to a full range of personal and corporate email accounts
*Large, easily readable screen- even in sunlight!
*Light (only 5.08 oz) and Slim (0.7")
*Globally Accessible (Quadband EGSM 850, 900, 1800 & 1900)
*Great choice for transitioning from standard cell phones to smartphones
Reasons to Wait:
*No Touchscreen
*No Camera
*Low Memory (80 MB, expandable with miniSD card)
*Voice Recorder Button too close to Volume Buttons
*Too wide and unwieldy for everyday personal use
For more information about the Nokia E62, visit the Nokia website.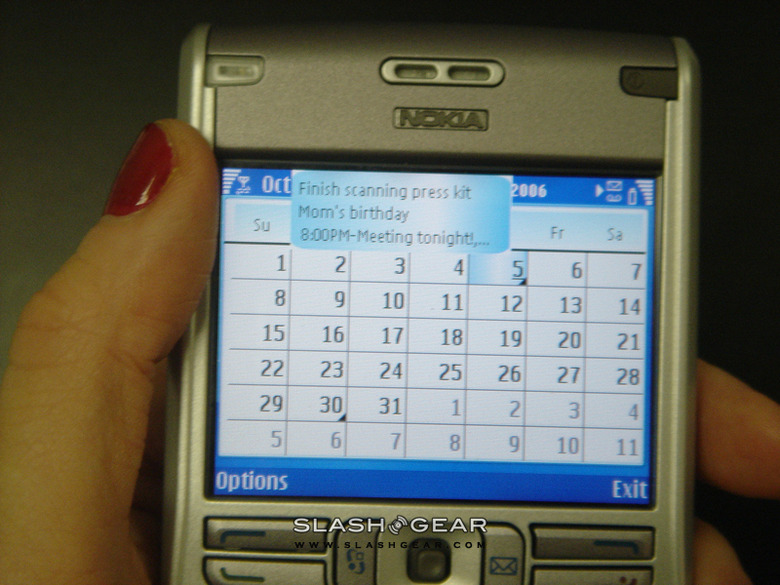 The Nokia E62 Calendar Function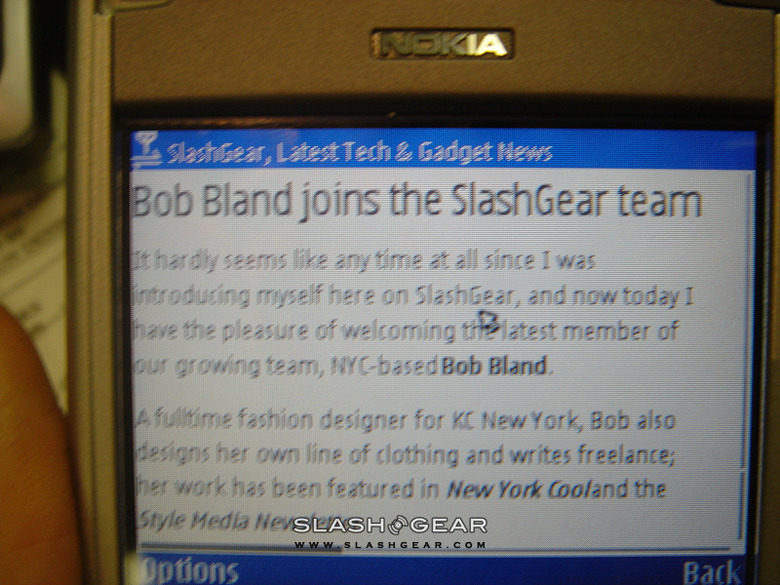 A Screenshot of Web Browsing at our very own Slash Gear
Navigate on the Web from Page-to-Page with Screen Captures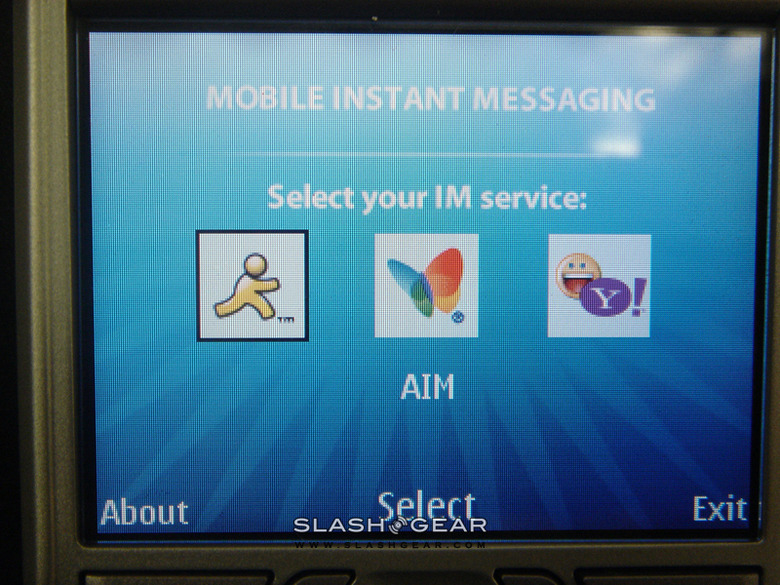 Pick your Poison- the E62 is preloaded with major IM providers
Online Chatting- one of the most accesible features of the E62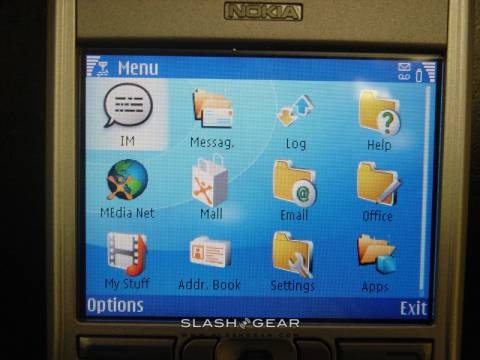 The Menu Screen is clear, bright and customizable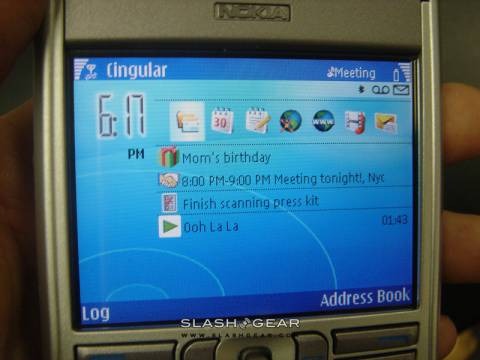 This is the Home Screen- shows calendar events, apps and the media player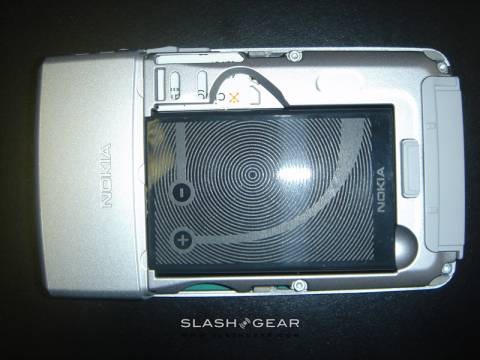 The Back of the E62-Revealed! Note that additional memory card must be inserted under battery.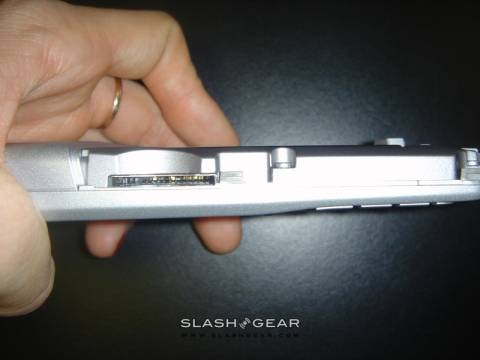 Side view of that pesky memory card slot!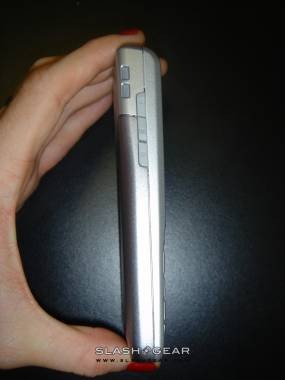 See how close the voice recorder button is to the up/down volume buttons? It made for some embarassing accidently recorded conversations...