Nokia Drops Tweet Tease With Desert Skiing And October 22 Event Date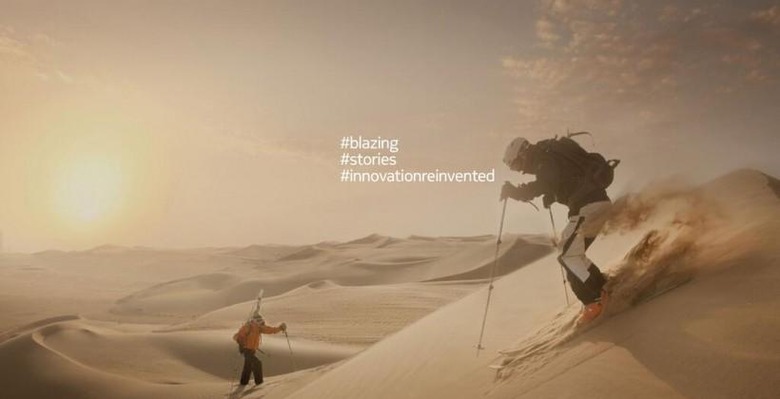 Nokia has taken to its Twitter account this morning, sending off a tweet with an October 22 date and the promise of more information to come on that day. Accompanying the tweet is a picture of a couple individuals in the desert skiing, as well as an assortment of hashtags. If all is as expected, we'll likely be seeing the Lumia 1520 launch on that date.
The tweet itself is exceptionally short, just reading: "At Nokia, we never stop innovating. More to share on October 22." The image is accompanied by three hashtags, #blazing, #stories, and #innovationreinvented. As far as the image itself, the desert could perhaps allude to the #blazing hashtag, as in blazing a new path.
Or, perhaps, the image could be a subtle clue as to where the October 22 event will take place, in which case it would seem to be somewhere decidedly deserty. Regardless, it is likely that Nokia will be introducing the Lumia 1520, it's 6-inch "phablet" Windows Phone handset, something that was originally going to be launched this month.
Yesterday, we heard that the AT&T Nokia Lumia 1520 is reportedly going to launch in November, after word had originally pegged it for a September launch, with later rumors pushing that to October, and now finally to November. Such falls in line with the event Nokia has planned, then, with it being reasonable that a handset introduced in late October will be available in November.
Also referred to as "Bandit", the Lumia 1520 features a 6-inch display and is said to have a Full HD resolution, making it special in the Lumia line up. Around back, word has it the smartphone features a 20-megapixel camera, and color options are said to be black, red, yellow, and white.
SOURCE: Twitter