Nokia deny Android smartphone rumors: sticking with Symbian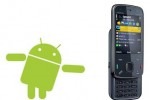 Nokia rumors a-plenty today, as UK paper The Guardian suggest that the Finnish company are planning to release a touchscreen Android smartphone so as to counter falling Symbian shares.  However, Nokia themselves have vehemently denied any such intentions, with a spokesperson quoted as saying "everyone knows that Symbian is our preferred platform for advanced mobile devices."
In fact, according to that spokesperson, there is "absolutely no truth ... whatsoever" to the Guardian piece.  The company failed to respond to the paper's suggestions that industry interest in Symbian – which was made free after Nokia bought out its software partners and assumed full control of the platform – has proved low in comparison to Android take-up.
Nokia devices have previously been coaxed into running Android, but so far the company has made no official move to adopt the platform.  The firm is conspicuous by its absence among the members of Google's Open Handset Alliance.