Nokia cut Olli-Pekka Kallasvuo from Nokia World line-up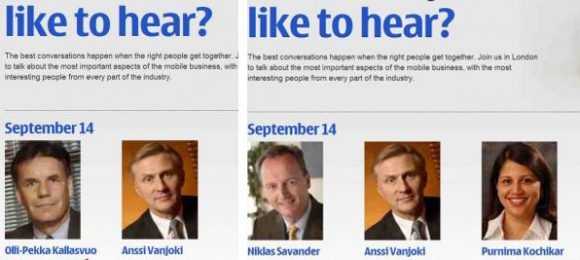 "What would you like to hear?" asks Nokia's speaker page for next week's Nokia World 2010 conference, but it's tough luck if your answer was "Olli-Pekka Kallasvuo".  The outgoing CEO has been stripped from the speaker list, replaced by Executive VP of markets Niklas Savander.
The change obviously follows Kallasvuo's replacement as CEO of Nokia, which will also see him step down from his position on the Nokia board; ex-Microsoft exec Stephen Elop will take his place.  However, that isn't expected to happen until September 21st, suggesting Nokia are keen to move Kallasvuo out of the picture as soon as possible.
It also helps avoid any unpleasant questions from the press; Nokia had initially been planning Q&A sessions with Kallasvuo at the event next week, but they seem unlikely to take place either.
[via My Nokia Blog]