Nokia 'Curse of Silence' SMS bug prevents Symbian phones from receiving SMS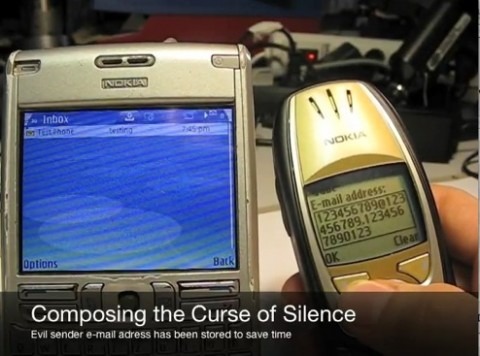 Many phones running the popular Symbian S60 operations system can be partially disabled by a malicious coded text message. Many Nokia handsets such as the N95, N79, and E71 just to name a few. This curse is being called "The Curse of Silence."
Apparently Symbian S60 has a glitch in the way it handles text messages, when a user uses more than 32 characters and includes a small identifier that marks a message as "Internet Electronic Mail" it will trigger this glitch. When triggered the handset will automatically stop receiving SMS messages without letting the user know until you restore the device.
This rare occurrence can easily be carried out and effect any phone running S60 versions 2.6-3.1, which unfortunately consists of a large number of Nokia's handset line. Tobias Engel and the Chaos Computer club are responsible for finding this bug and reported the details to Nokia a few weeks ago and there still has been no patch to fix the issue. Check below to see if your phone is one of the affected.
S60 3rd Edition, Feature Pack 1 (S60 3.1):

Nokia E90 Communicator

Nokia E71

Nokia E66

Nokia E51

Nokia N95 8GB

Nokia N95

Nokia N82

Nokia N81 8GB

Nokia N81

Nokia N76

Nokia 6290

Nokia 6124 classic

Nokia 6121 classic

Nokia 6120 classic

Nokia 6110 Navigator

Nokia 5700 XpressMusic

S60 3rd Edition, initial release (S60 3.0):

Nokia E70

Nokia E65

Nokia E62

Nokia E61i

Nokia E61

Nokia E60

Nokia E50

Nokia N93i

Nokia N93

Nokia N92

Nokia N91 8GB

Nokia N91

Nokia N80

Nokia N77

Nokia N73

Nokia N71

Nokia 5500

Nokia 3250

S60 2nd Edition, Feature Pack 3 (S60 2.8):

Nokia N90

Nokia N72

Nokia N70

S60 2nd Edition, Feature Pack 2 (S60 2.6):

Nokia 6682

Nokia 6681

Nokia 6680

Nokia 6630