Nokia "Comes With Music" Music Subscription Service Ends Well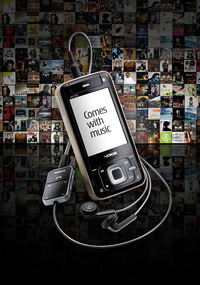 Nokia has been making a lot of noise in these shark-infested mobile waters lately, must mean their CEO isn't ready to step down yet (lol). Their latest is their "Comes with Music" initiative.
Basically its an all you can eat music service for your phone with a year long contract deal type of thing, so it's a lot like the Zune Pass. The two biggest differences are that Nokia currently only has Universal signed up for the deal, oh yeah, and the best part, at the end of the subscription term, you get to keep the music.
Nokia apparently has some big plans for the service as they've been quoted saying "Even if you listened to music 24 hours a day, seven days a week, you would still only scratch the surface of the music that we're making available." So that's great, but we have no details on when it will be available, or how much it will add to the cost of the handset. Something like this would definitely make me reconsider my next phone purchase.
Nokia "Comes with Music": subscription plan with a happy ending [via jkontherun]