Nokia announced increase adoption of Qt with additional licensing option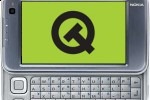 Today Nokia announced that their Qt cross-platform User Interface (UI) and applications framework would be available under the Lesser General Public License (LGPL) version 2.1 license from the release of Qt 4.5 that is scheduled for March 2009.
In addition, Qt will now be available from a new source over at www.qtsoftware.com. This move to LGPL licensing will provide open source developers with more permissive licensing than GPL and also increase flexibility for the developers. The Qt source code repositories will be made publicly available and will encourage contributions not only from desktop but also embedded developer communities. These changes are meant to drive developers to evolve the Qt framework.
"Broader use of Qt by even more leading companies will result in valuable feedback and increased contributions, ensuring that Qt remains the best-in-class, cross-platform UI and application framework. The accelerated development of Qt will allow developers, including Nokia, to deliver better devices and applications, reduce time to market and enable a wider deployment base for their solutions," said Sebastian Nyström, Vice President, Qt Software, Nokia.
Qt 4.5 will also be available under the commercial licensing terms and previous versions of Qt will remain the way they are. Services offerings for Qt will also be expanded to ensure that all Qt development can access the same levels of support regardless of the license.