Nokia and Facebook in negotiations for mobile integration?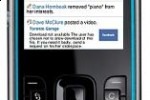 Nokia are considering a partnership with Facebook that would see the social networking site integrated with certain handsets in the company's range.  According to "people familiar with the matter", the two companies are in the midst of negotiations over how the setup might work, including which handsets would offer Facebook integration, and in what way.  One possibility is that Facebook's contact information would be linked to a Nokia user's handset contacts, with synchronization between the two and status updates from the online system displayed on the phone.
However Nokia is also apparently considering bypassing Facebook and setting up their own social network.  This would have the benefit of removing negotiations with a third-party and giving the company full control of the system, but it would also mean Nokia would have to build the network from scratch (unless of course they bought out a smaller, existing social network). 
Given the number of mobile Facebook users, and the brand's current cachet – as evidenced with the recent iPhone app stats – it would seem sensible for Nokia to go with the former idea and partner up.  No exact financial terms of the deal have been revealed, nor the extent of which Facebook services would be accessible on Nokia handsets.