Nokia Aims for "Next Billion" With X1-00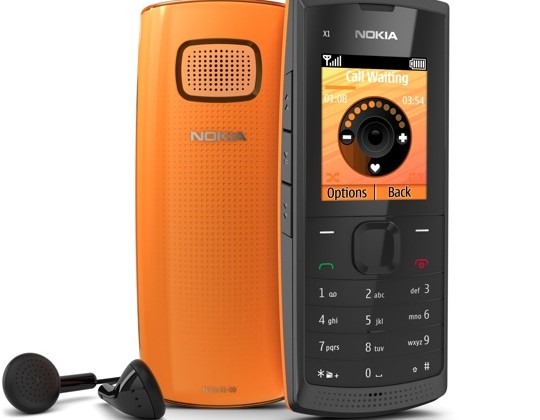 Looking to grab its next billion users, Nokia has launched a new, entry level mobile phone aimed at "growth markets", or the developing world. The X1-00 will retail for less than €35 (or $48 bucks), and has special features that will make it appealing for those markets. Oh, and it's orange. Read on past the cut to see more specs and info.
The phone has a massive speaker on the back, rated at 106phon (a measure of perceived loudness), which as far as we can tell is about as loud as a jet flying over. Nokia has tweaked the frequency response so that the sound does not distort at higher volumes. So why so loud? This way the phone can be heard over loud traffic and other ambient noise that can be quite loud in the developing world. Also, this allows people to share music on the phone with those around them, kind of like a mini-boombox. So just hope that you don't get stuck on a bus next to one of these. It also has a 3.5mm audio jack for plugging into speakers if you want things to get even louder (or headphones, of course).
The phone will have a flashlight built in, and will have a staggering battery life of 61 days. It also includes five phone books, allowing the phone to be shared within a family, or even with neighbors. Even though the price is low, that is still a lot of money for many people around the world, so this may need to be a community phone.
Additional features:
Three dedicated player keys and single-key playlist creator
Supports MicroSD memory cards for storage up to 16GB
Integrated FM radio
Uses Series 30 operating system
Measures 112.2 x 47.3 x 16mm, weighs 91g
The phone will be available starting in April.
[via Nokia Conversations]