Nokia adds Mirror's Edge game to Nokia Collection at no cost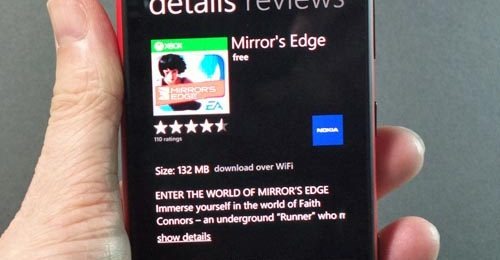 If you're a user of a Nokia Lumia smartphone running Windows Phone 8, such as the Lumia 920, Nokia has added a new video game to its free Nokia Collection that you can download. The free video game is also available for devices such as the entry-level Nokia Lumia 610 that runs Windows Phone 7.5.
EA is the publisher of Mirror's Edge, which is a game that has been around for a long time now. The game launched in July and was selling for £2.29. You can now add that game to your collection at no cost courtesy of Nokia.
If you somehow missed this game, players will play as Faith who is a runner in the future who delivers messages by hand while avoiding government agents trying to kill her. The game is very large at 132 MB and requires a Wi-Fi connection for downloading. Mirror's Edge was also recently updated to version 1.1.3 1.0.
No change log noting what the update adds is available at this point. It's unclear how long Nokia will be offering the game as a free download. If you like this game on other platforms or just want to download a free premium title, you should do it as soon as possible.
[via Noknok.tv]