Nokia 9 PureView press render leak confirms the insanity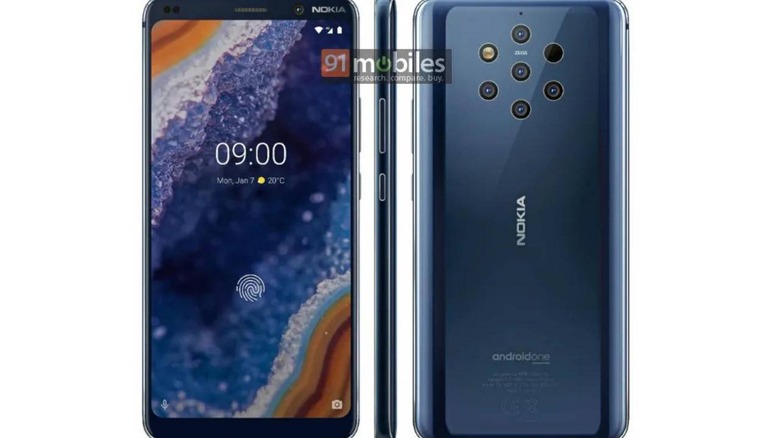 Some may consider last year's MWC to have been bordering on boring but this year promises to be anything but. Of course, there's the promise of foldable phones and at least two button-less, seamless phones. But going beyond those, there are also the likes of the Nokia 9 PureView to make heads turn. Teased by HMD Global itself and now confirmed by an "official" press render, the penta-lens smartphone demonstrates how things can turn when you pull out all the camera stops.
How many rear cameras do you need on a phone? Ask Google and it will answer "one". But there doesn't seem to be any stopping the growing number of cameras on a phone's back and HMD Global will be showing off the logical next step. Fortunately, it found a way to do so in a more or less elegant way.
Confirmed by what 91mobiles says is an official press render for the device, the Nokia 9 PureView's five cameras are arranged in a circle along with the LED flash and an autofocus sensor. At the moment, there is still no consensus on what those five sensors will be. There will at least be a large main sensor, a telephoto sensor, and an ultra-wide sensor. The remaining two could be any combination of a depth sensor, monochrome sensor, or time of flight 3D camera.
HMD seems to have been less invested in the front side of the Nokia 9. While almost bezel-less, it still has enough room at the top not just for the front camera but even for a Nokia branding. No space for a fingerprint sensor of course, which is hidden beneath the display.
With the Nokia 9 PureView's features all but confirmed, the biggest question now is the price. Even with the HMD Global's usual pricing strategy, that many cameras and high-end specs will surely fetch a handsome price. Which raises the question of whether those five cameras will be worth that cost in the end.