Nokia 7500/7900 Prism: Cutting-edge design

There's only so much that a phone designer can do with a candy bar form-factor. Nokia is trying something new with the 7900 Prism by dressing it up with a distinctive anodized cut of diamond-shaped patterns on an aluminum back cover, laser-etched surfaces and polished matt finishing. The 7500 features these same bold geometric patterns and distinctive details minus the fancy anodize and aluminum material.
Both models feature 3G capabilities, a 2-megapixel camera with 8x digital zoom. The 7900 Prism is however blessed with 1 GB of internal memory, 16M colors OLED display and two additional bandwidths (WCDMA 850/2100 MHz). The 7500 Prism only has 30 MB of internal user memory, but luckily it has a microSD expansion slot handling up to 2 GB and a 16.7M 240x320 pixels display. It's only a tri-band EGSM 900 MHz; GSM 1800/1900 MHz.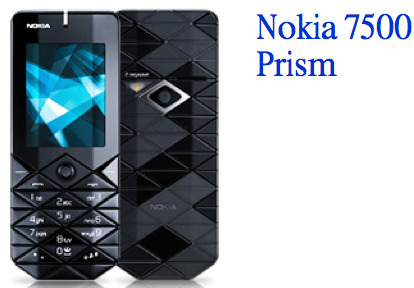 The 7900 Prism talk time is up to 3 hours and standby time up to 9 hours, while the 7500-model talk time is 2.8 hours and 10 hours of standby time.
Price and available is to be determined for both handsets.
Nokia also announced an unusually looking Bluetooth headset called BH-303. It has a talk time of 6.5 hours with up to 150 hours standby. You can personalize the headset via four interchangeable covers and use the innovative strap as an ear hook. Whoopee!