Nokia 700 Review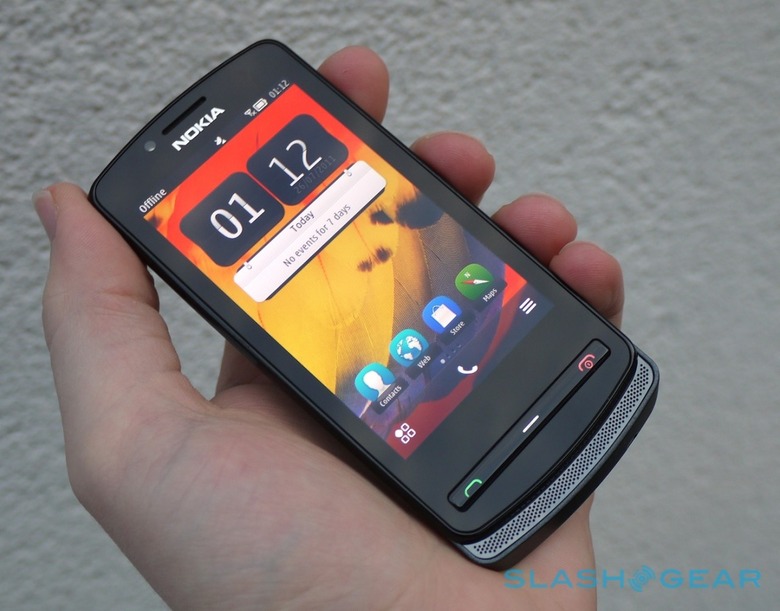 You could easily make a case against the Nokia 700. Launched on the eve of Nokia's Windows Phone drive, but running the oft-maligned Symbian, on paper the 700 has "too little, too late" written all over it. Still, Symbian may be on its way out, but it still has a place on Nokia's roadmap for a few years, and the 700 debuts Belle, the newest version of the OS. Could the Nokia 700 really be the phone that leaves us lamenting Symbian? Check out the full SlashGear review after the cut.
Hardware
Nokia's now-legendary build quality is one of the things we're most looking forward to in the company's upcoming Windows Phone range, but solid construction is certainly evident on the 700, too. It's a surprisingly small phone in a world dominated by oversized touchscreens: Apple may have been criticized for sticking with 3.5-inches on the iPhone 4S, but the 700's AMOLED is an even smaller 3.2-inches. It runs at nHD 640 x 360 resolution, low in comparison to rival devices but still sufficient for smooth graphics on such a compact panel.
It's also impressively color-rich and bright, thanks to Nokia's ClearBlack technology. Colors are saturated and vivid, and the viewing angles are broad. A sheet of toughened Gorilla Glass sits on top of the 110 x 50 x 9.7 mm, 96g chassis, with physical call, menu and end/power buttons underneath. On the right side are slim – but easily pressed – volume, lock and camera keys. The whole thing is creak-free and sturdy.
Nokia hasn't stinted on connectivity over the past couple of years, and the 700 – although billed as an entry-level smartphone – is no different. As well as pentaband UMTS/WCDMA, making 3G usable on both AT&T and T-Mobile in the US – there's quadband GSM/EDGE, WiFi b/g/n, Bluetooth 3.0, USB 2.0, NFC, a 3.5mm headphone socket that doubles as a TV output, an FM radio and A-GPS. Up to 14.4Mbps downloads and 5.76Mbps uploads are supported, network allowing. Frankly, rivals could still learn a lot from what Nokia manages to squeeze inside a low-cost, low-bulk handset.
On the back is a 5-megapixel full-focus camera with 720p HD video recording support, but unlike most other Nokias the 700 lacks a front-facing camera for video calls. That's unlikely to make a huge difference to most buyers, however. Inside is 2GB of storage, augmented via a microSD card slot, plus a SIM slot and a 1080 mAh battery.
Software
Symbian Belle is by turns familiar and new. Nokia is keen to point out that there are many changes behind the scenes, making the aging OS more spritely and spec-compliant, but it's the reworked UI that leaves the biggest impression.
Nowhere is that more evident than the homescreen. Symbian previously supported a single desktop widget size – a rectangular block wide enough for four icon shortcuts, three emails, etc. – with each of three panes having space for six such boxes. Belle ups the panes to a possible six and offers developers a choice of six widget sizes, ranging from individual icons to huge blocks. There's more flexibility in how you can place them, too.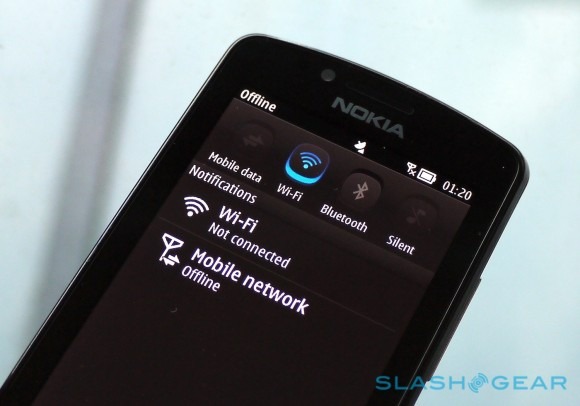 Then there's the notification menu, Symbian borrowing Android's pull-down status bar complete with shortcuts to quickly toggle mobile data, WiFi, Bluetooth and silent mode. New messages and other alerts are flagged up here, along with music player controls if there's media on the go.
Iconography has been switched wholesale to Nokia's "squircle" design language, which leaves things feeling a little like the N9, and there are some discrete animations as you move around the system. Menus swipe and slide away, and the whole thing feels fresher and newer than versions of Symbian before it.
The apps and services on offer are much as we've seen on other recent Symbian phones. The QWERTY keyboard for portrait orientation is present, though the epitome of fiddly on the compact 3.2-inch display. You also get the impressive Nokia Maps, supporting offline mapping – a boon if you travel and don't want to rack up sky-high data fees – along with turn-by-turn directions for driving and walking, and various integrated POI services. It remains one of the best mobile mapping solutions around, and we're very much looking forward to it kicking Bing Maps out of Windows Phone.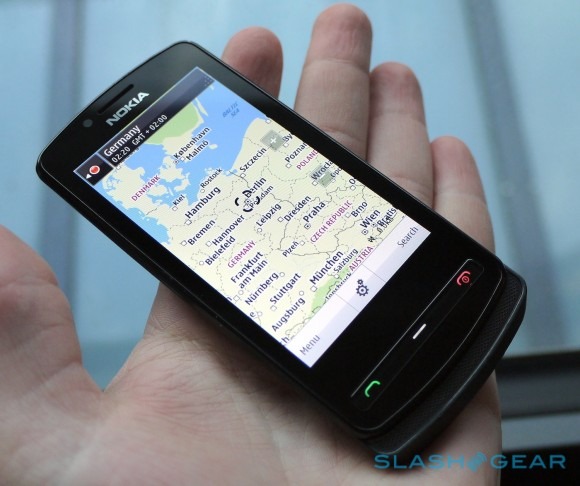 Nokia doesn't include any NFC accessories in the box with the 700, only a wired stereo headset, which is a shame as the short-range wireless technology is neatly integrated into Belle. We've tested the 700 with several of Nokia's NFC-enabled gadgets – where it's used as a shortcut to pairing and activating Bluetooth connections – and it certainly beats punching in the default "0000" code and routing calls and music through the Bluetooth connection each time. Instead, simply hold the 700 against the NFC logo on the Play 360 speaker, for instance, for a few seconds, and the two automatically make friends and start playing music. A second tap disconnects.
The Symbian browser has been supercharged, Nokia says, running at 3x the speed of that of the N8. In practice we were hamstrung predominantly by the diminutive screen size, though pages loaded reasonably quickly over WiFi and 3G. Flash Lite 4 is supported and didn't seem to have a huge speed impact on page navigation lag. There's no webpage tabbing, a sensible decision given the real-estate on offer, so the 700 uses a separate UI to switch between concurrently open pages that's similar to the preview thumbnails used in the app switcher.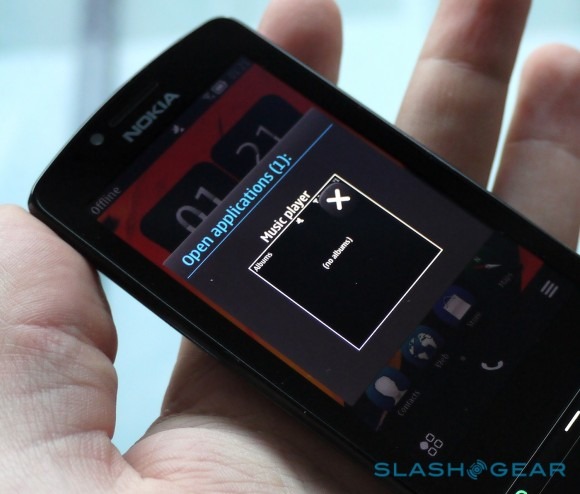 Nokia's social integration looks a little better in this iteration of Symbian, with Facebook and Twitter being pulled to the homescreen courtesy of the Social app and its widget, but it still feels a less cohesive implementation than, say, Android or iOS 5. Third-party apps like Gravity do the Twitter job better, and are available through the Nokia Store. Otherwise the app download scene can be somewhat hit & miss, with some gems to be discovered but otherwise a less impressive array than the fast-growing App Store and Android Market.
Camera
Nokia argues that its "full focus" cameras make for just as good photography as those equipped with auto-focus. In some circumstances that's true (there are other benefits, such as minimal delay between hitting the button and the frame being captured) but we still know the main reasons are cost and bulk.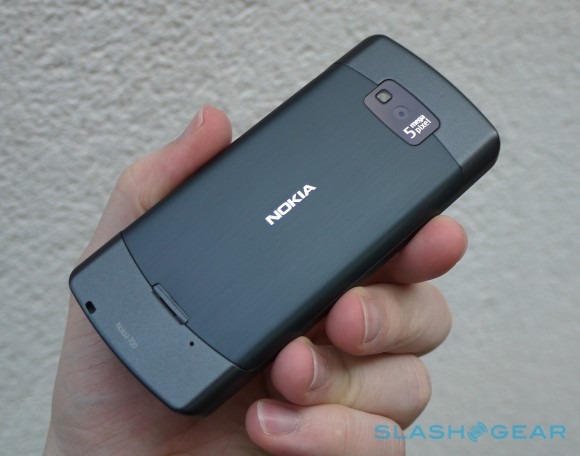 Unfortunately, full focus cameras struggle with close-up and macro shots – they simply can't focus in on nearby objects – and as you can see from the samples in the gallery, that means fuzzy images. More standard photos fare better, with realistic colors and decent contrast outdoors. Indoors however, where good light can be in shorter supply, shots quickly become grainy with noise. It's not helped when the 700 is so lightweight that it's easy to shake when you're trying to press the button.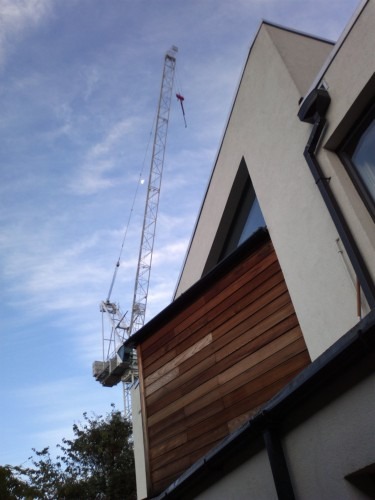 Video can be captured at up to 720p HD 30fps resolution, with digital image stabilization to try to help cut out some of the phone shudder. The resulting clips are average, with somewhat muted colors and a tendency for darker areas of the picture to become murky and lose detail. Even with the digital processing we struggled to overcome camera shake, too.
Phone and Battery
Nokia is often the brand of choice for those still demanding solid calling performance from their handsets, and the 700 doesn't disappoint. In-call audio could be cranked loud with minimal distortion, and the front-facing speaker meant impromptu conference calls were clearer too.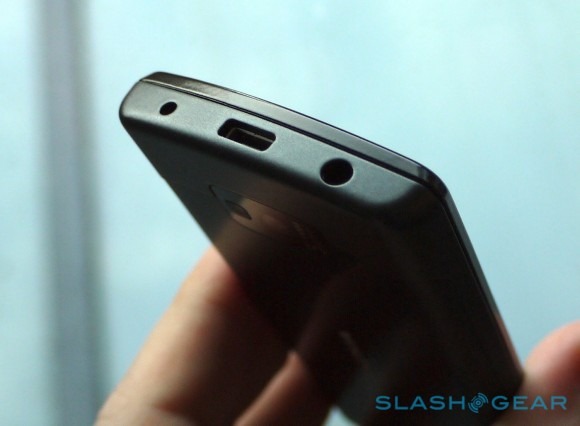 The 1080 mAh battery is tipped as good for over 7hrs of GSM talktime (up to 4.5hrs WCDMA) or up to 403hrs of GSM standby (up to 416hrs WCDMA); alternatively Nokia says it's good for almost 7hrs of video playback or 47hrs of audio playback (using wired rather than wireless headphones). In reality, we easily managed a couple of days use with push-email turned on, some browsing, multimedia and navigation use. The compact display is likely to have helped in more than one way with that: AMOLED is general more power efficient than LCD anyway, but its compact size often left us reaching for bigger devices when we wanted to do all but the briefest of web browsing.
Wrap-Up
We admit it, we were ready to move on from Symbian. The platform still has its fans, but underwhelming usability in comparison to Android and iOS saw otherwise impressive devices like the N8 and E7 fail to meet the mark. With Symbian Belle, though, it seems Nokia's latest round of CPR has actually resulted in a smartphone platform that we could recommend using.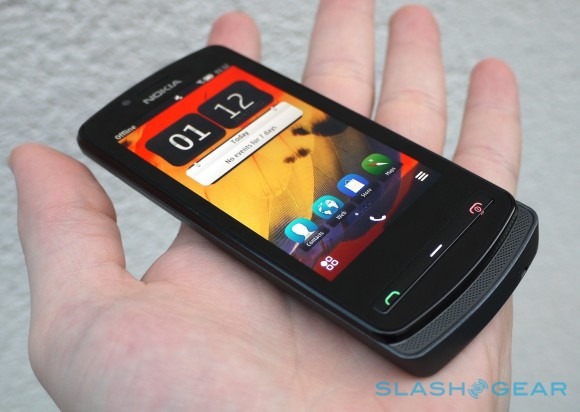 Price and positioning would play a huge part in that recommendation, of course. Nokia is aiming to have the 700 on sale at around the same point as an HTC Wildfire S, a budge Android device; SIM-free and unlocked, it's available for £299.99 in the UK ($472). That's mighty affordable when you consider the spec list. Belle could well be more approachable than Android to first-time smartphone users, too, and we can imagine plenty of people preferring solid preloaded apps over the somewhat wild hit-and-miss of the Android Market.
In short, the Nokia 700 occupies a spot in-between featurephone and smartphone, both in Nokia's own line-up and the market as a whole. If your priorities are staying connected without staying tethered to a mains socket, making occasional forays onto the web and all in something that won't dominate your pocket or purse, then the Nokia 700 could well be the first Symbian device we'd suggest you consider.