Nokia 6.2 differences vs 7.2 are few, and odd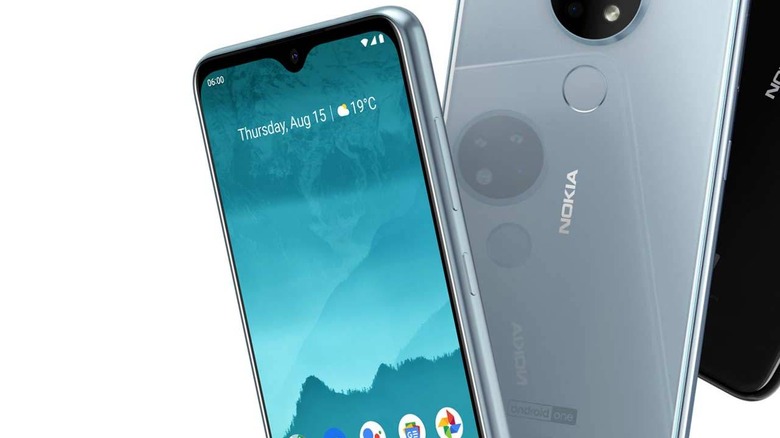 Two phones in the same sort of Android One by Nokia family were revealed today, the lesser of the two being the Nokia 6.2. This device has a 6.3-inch IPS LCD touchscreen, FHD+ with PureDisplay, a droplet notch, and three cameras on its back in a circular array. This should sound very familiar if you've already read about the Nokia 7.2 earlier today.
What's the difference between the Nokia 7.2 and the Nokia 6.2? One might've had to explore a similar line of questioning last year with the Nokia 7 and 6 lines, and the year before that! This year the differences are relatively slight. The displays appear to be nearly identical, with the same amount of panel, same technology, same amount of color, and access to HDR10.
Different Gorilla Glass panels
One odd difference between these devices is the inclusion (in official spec sheets) of Corning Gorilla Glass 3 on the 6.2, but Gorilla Glass 2.5D on the 7.2. The more expensive device gets what might appear to be the lesser of the two panes of protective glass – but the numbers are a bit deceiving.
When a pane of protective glass over a display has "2.5D" in its name, it suggests that its edges are curved. In reality, both devices have Gorilla Glass 3 – it's just that one device has a slight curve to the edges of its frontside panel.
Slightly different processors
The Nokia 6.2 has a Qualcomm SDM636 Snapdragon 636 SoC with 8x 1.8 GHz Kryo 260 CPU cores and an Adreno 509 GPU. The Nokia 7.2 has a Qualcomm SDM660 Snapdragon 660 processor with 4x 2.2 GHz Kryo 260 CPU cores and 4x 1.8 GHz Kryo 260 CPU cores, as well as an Adreno 512 GPU.
The differences in these setups are largely in place to handle the different sets of cameras with which the phones are equipped. The relative processing power of these cores are so slight that it'll be nearly impossible to notice the difference – even if you have both phones right in front of you at the same time.
The Phone Sizes
It's like Nokia took the 6.2 device and put it in the drier to shrink, but so extremely slightly that it's confusing. Both devices have the same size display and the same size camera array at their back (not the same camera lenses, but the same size circular pod in which they're housed). It's the rest of their body that's changed size.
The Nokia 7.2 is 159.9 x 71.2 x 8mm (6.30 x 2.80 x 0.31in) and weighs 160g (5.64oz). The Nokia 6.2 is just a TINY bit larger at 159.9 x 75.1 x 8.3mm (6.30 x 2.96 x 0.33in) with a weight of 180g (6.35oz).
Above you'll see a gif switching between two images – one is the 7.2, the other the 6.2. HMD Global uses a very similar graphics model for both units – but they ARE just a bit different.
Network Speed
Network bands for both phones are nearly identical, according to Nokia's official spec sheets. They both seem to be prepared to work with GSM and WCDMA networks throughout Europe, Latin America, India, and the USA. The only bit that's not identical is in quoted Network Speed.
Nokia notes that the Nokia 6.2 gets a network speed of LTE Cat 4. For the Nokia 7.2, the company suggests a network speed of LTE Cat 6, but ALSO adds a special note about how Network speed in India will still be LTE Cat 4.
Nokia 6.2 price and release vs 7.2
The Nokia 6.2 was priced at approximately 209 Euro, but has not yet been priced for US release. This device will come to both Europe and the USA, but release dates have not yet been announced by Nokia or HMD Global. The Nokia 7.2 will be released for around 249 Euro and $349 USD, and will be released near the end of September, 2019.