Nokia 5800 XpressMusic update boosts speed, adds new features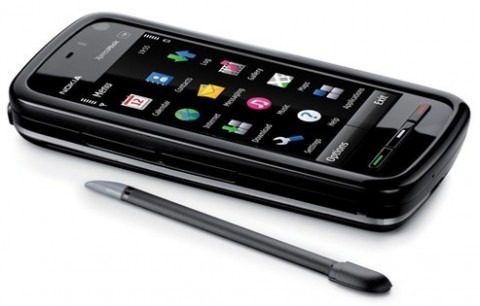 Nokia have released an update for their 5800 XpressMusic touchscreen music-phone.  The updated software – which is a free download – boosts internet data access speeds and tweaks in-device searching and the onboard email app.
Full changelist after the cut 
Other changes include speed improvements to the GUI and a new mobile dictionary with text-to-speech functionality for 38 languages.  Nokia have also made changes to the 5800's camera, adding a burst-shot mode for taking multiple successive photos while the shutter button is held down, together with allowing the front-facing camera to take still images.
Finally there's a new updater app which allows users to either manually or automatically update the 5800 XpressMusic from the handset itself.  The new firmware is available to download from http://www.nokia.com/softwareupdate.
Press Release:
Nokia releases a new software update for Nokia 5800 XpressMusic

Update includes a wide range of new features and improvements

Espoo, Finland – Nokia has announced a software update to the Nokia 5800 XpressMusic to further improve the performance and add new functionalities to the device. The software update is immediately available for download on Nokia Software Update website (http://www.nokia.com/softwareupdate) free of charge (data charges may apply).

Improvements in the new software version include faster data download from Internet, improved e-mail experience, better search experience with in-device search. Many additional features are also included in the software update:

- Faster user interface and faster download times

- New camcorder features: second camera support for still image capture in addition to video calls, burst mode that allows people to take multiple pictures one after another without needing to repress the picture taking button

- Mobile Dictionary: built-in dictionary functionality with voice playback of words utilizing text-to-speech technology, support for 38 languages

- Application Update: with Application Update people can check for available updates for applications and update them directly in the device. Applications can also be kept up-to-date by setting the checking to automatic.

"The update includes great improvements in the Nokia 5800 XpressMusic. As mobile devices become more and more advanced, additional features and new functionalities are easy to install to the existing device. We recommend people to take advantage of the new features and upgrade their Nokia 5800 XpressMusic, and get more from their existing device," said Soren Petersen, Senior Vice President, Devices, Nokia.

Nokia regularly releases firmware updates for many device models and improves the overall experience by adding new functionality and improving performance.

About Nokia

Nokia is the world's number one manufacturer of mobile devices by market share and a leader in the converging Internet and communications industries. We make a wide range of devices for all major consumer segments and offer Internet services that enable people to experience music, maps, media, messaging and games. We also provide comprehensive digital map information through NAVTEQ and equipment, solutions and services for communications networks through Nokia Siemens Networks.