Nokia 5730 and 5330 XpressMusic leak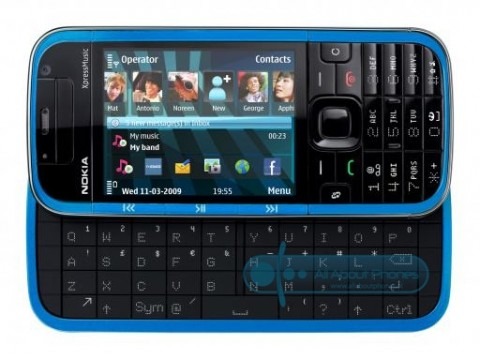 Leaks a plenty from Nokia today, with two as-yet unseen devices and a third with currently limited availability breaking free.  All three Nokia handsets are Xpress-branded, with the most interesting (to message-addicts, anyway) being the Nokia 5730 XpressMusic seen here, with a full-QWERTY slide-out keyboard.  The second new handset is a cleanly-designed slider, the Nokia 5330 XpressRadio, shown after the cut.
According to the leaked information, the 5730 will have the S60 OS, WiFi, HSDPA and GPS, together with a 3.2-megapixel camera.  It will also be the first Nokia to feature the new Xpress Home Screen, a homescreen widget that puts music control on the standby page.  There's also N-Gage gaming and a retail price of €280 ($357) complete with Comes with Music service when it lands in Q2 2009.
The Nokia 5330 XpressMusic, meanwhile, is a more traditional slider with a hidden numeric keypad.  It has a standard 3.5mm headphone socket, dedicated music control keys and light effects, and the battery is apparrntly good for 24hrs of solid audio playback.  It should be priced at €160 ($204) when it lands in Q3 2009.
As for the third device, the Nokia 5030 XpressRadio, that's been available in Pakistan since the tail-end of last year.  It lacks the sophistication of the other two handsets, but does have an integrated FM radio, speaker and low €40 ($51) unsubsidized price in Q2 2009.  Nokia is expected to announce all three devices at an eventon Wednesday March 11th.
[Thanks Danijel!]