Nokia 5530 XpressMusic to launch for Nokia World?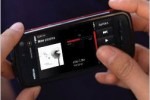 It seems the Nokia 5530 XpressMusic might be launching soon if new sources are to be believed. The new phone will supposedly have a smaller display but a few additional features that are worth noting.
For instance, the Symbian S60-running phone will have a 3.2-megapixel camera, a 2.9-inch display, Wi-Fi and a FM radio. Featuring a touchscreen, this phone should help solidify Nokia's touchscreen product line up.
We don't know if GPS or 3G will be included, but we do know that this smartphone may be available in time for Nokia World, on September 2. Nothing's known for sure yet, but we can always use more smartphones!