Nokia 5 proves nearly indestructible in JerryRigEverything's hands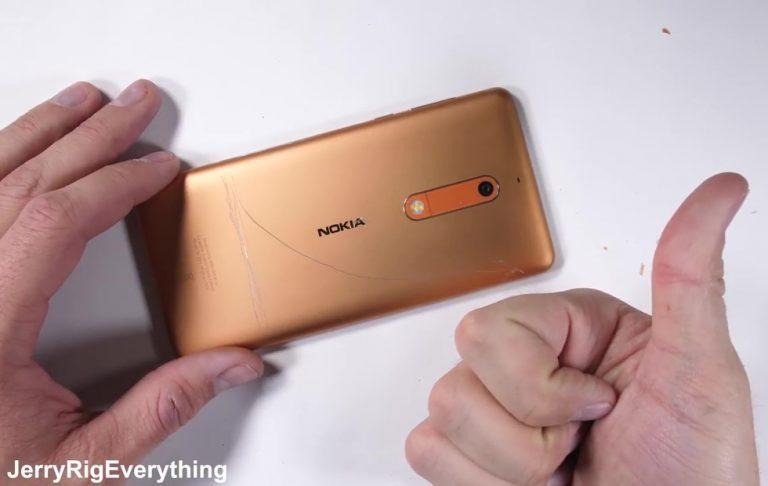 Mention the name "Nokia" and mos people not born within the decade will probably remember two things about it. First is the dizzying range of phone models and the second is the rugged durability of most of those phones. Today's Nokia smartphones, made by HMD Global, seems to be on a course to reclaim both titles. JerryRigEverything's Zack Nelson attempts to test the latter with the Nokia 5, proving that this might be the cheap but sturdy mid-range droid you are looking for.
The Nokia 5 isn't a looker, at least if you only look at its spec sheet. A 5.2-inch phone with a 720p display, a Snapdragon 430, 2 or 3 GB of RAM, and 16 GB of thankfully expandable storage, the phone isn't going to make heads turn. Not unless you get the unique copper-gold color.
You will, however, be able to sleep at night, content in knowing that your phone might survive an alien or metahuman attack. Even when one of those has the powers of a lighter. The screen, though too dim for comfort, will last 10 seconds before it goes blank and recovers eventually.
The Gorilla Glass front is already expected by smartphone foes but they might not expect the back camera to be just as defiant, unlike the Nokia 5's cheaper sibling, the Nokia 3. In fact, unlike most smartphones, even the LED flash is protected by a glass shield. And yes, the fingerprint scanner has glass on top as well, rendering blades useless.
Nelson may be no Hulk, but he possesses strength beyond mere mortals and beyond some mortal posteriors. But even he was unable to make the Nokia 5 flex even a just a little, proving how tough the affordable device can be. Just don't dip it in water.