Nokia 2710 Navigation Edition Promises Cheap Turn-By-Turn Directions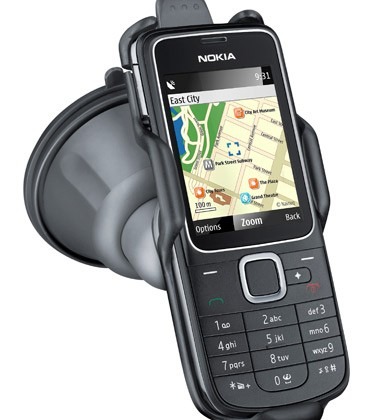 Nokia have pushed a new cellphone out of the door, and the Nokia 2710 Navigation Edition unsurprisingly sets its focus on getting you from A to B.  Billed as the Finn's "most affordable Nokia Maps loaded, GPS-enabled phone" so far, the €100 ($164) handset is set to arrive in Q2 2010 and has device-based mapping (on a 2GB microSD card) so that it can be used for directions even without a data connection.
Video demo after the cut
That's pretty handy, since Nokia expect both developed and developing markets to pick up the 2710 Navigation Edition.  As such it includes both turn-by-turn driving directions with voice guidance and point-to-point straight line navigation with a digital compass.
There's also a 2.2-inch display, 2-megapixel camera and an FM radio, together with a 3.5mm headphone socket and a battery good for up to 4 hours 20 minutes talktime or 18 days standby.  No word on how long you can use it to navigate for, however.
Nokia 2710 Navigation Edition promo video [via Nokia Conversations]:
Press Release:
Nokia 2710 Navigation Edition brings maps, location and navigation to new markets

December 7, 2009 – NokiaPressServices, Tags: maps, navigation, Nokia 2710 Navigation Edition, Nokia Maps

The Nokia 2710 Navigation Edition, the company's most affordable Nokia Maps loaded, GPS-enabled phone has been unveiled.

The new phone is expected to be popular in the developed and developing world alike and has been developed with urban environments, small towns, as well as rural areas in mind. Incorporating straight line navigation with the assistance of an integrated digital compass, it also includes turn-by-turn driving navigation with full voice guidance.

With the clear trend towards providing location based services to mobile phones, customers can use a single device for both communication and navigation. When bringing this experience to new markets, you need to make sure the experience is locally relevant. With Nokia Maps, Nokia provides the broadest navigation coverage of any competitor and we continue to add new countries all the time.

As the cost and availability of data connections is sometimes limited, relevant maps are included on the device to ensure that even if there is no access to an internet connection, the device can still be used.

The estimated retail price of the Nokia 2710 Navigation Edition will be EUR 110 and it should start sales in the second quarter of 2010.