Nokia 2 is an entry-level smartphone with a serious battery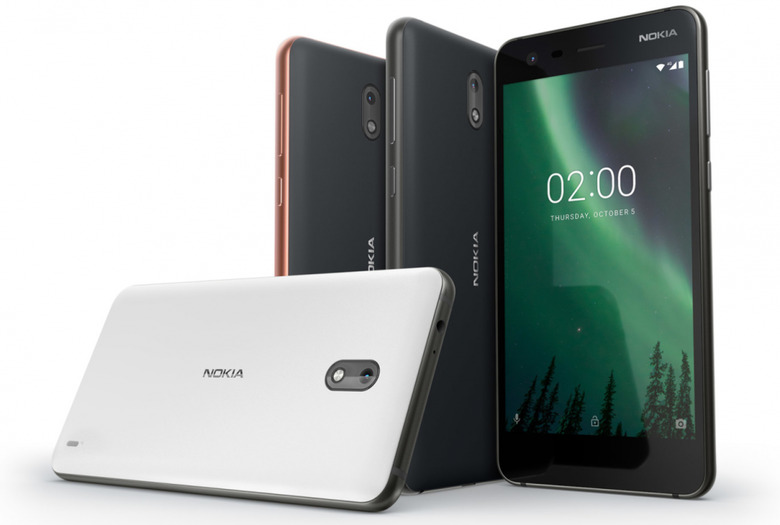 Thus far, the return of Nokia has given us quite a few different handsets. From a re-imagining of perhaps the most famous basic phone ever to the much more high-end Nokia 8, the phones that HMD Global has been pushing out the door have covered a fairly broad range in terms of power. There have even been a few mid-range smartphones for those shopping on a budget, but today we're seeing the introduction of a new entry-level phone in the Nokia 2.
There definitely isn't much to get excited about from a hardware perspective in the Nokia 2, aside from one major feature: its battery life. The Nokia 2 is built around a beefy 4100 mAh battery, which HMD Global says is good for two days of use on a single charge. It isn't hard to believe those claims when you take a look at the hardware that battery is powering.
The Nokia 2's display, for instance, is a 5-inch LTPS LCD screen outputting at just 720p. With a Qualcomm Snapdragon 212 running the show, an 8-megapixel rear shooter, and 1GB of RAM, we certainly aren't looking at any high-powered hardware. In fact, the Nokia 2 probably isn't going to appeal to most people, but it should serve as a good first smartphone for someone who's just getting started.
With that kind of hardware under the hood, it's easy to see why the battery lasts so long. Durability is also one HMD's key talking points with the Nokia 2, as the display has been put behind a sheet of Gorilla Glass 3 and the phone itself outfitted with an aluminum frame and a polycarbonate shell. The phone will be running Android 7.1.1 Nougat out of the box, and though HMD seems to suggest that the Nokia 2 may one day get Android 8.0 Oreo, it doesn't delve into a specific timeline.
Like I previously said, most people probably won't give the Nokia 2 much consideration thanks to its entry-level hardware, but for the €99 HMD is charging for this device, you could certainly do a lot worse. HMD doesn't give an actual release date for the Nokia 2, but considering the phone is being advertised on Nokia's website, we probably aren't that far out from launch.