No Man's Sky Beyond release date revealed with new trailer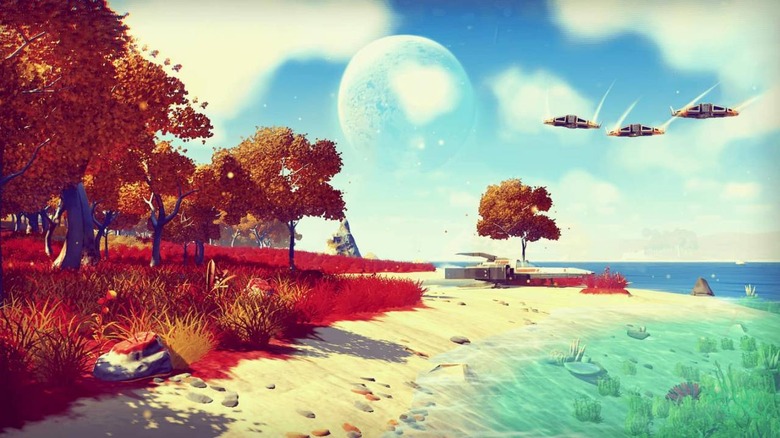 Earlier this year, the team at Hello Games revealed a new update for No Man's Sky called Beyond. Just the same as all the updates that came before it, Beyond will be a free update to the game, and it sounds like it's going to be a significant expansion to the content that's already there. Today, Hello Games told us when Beyond will be shipping out, and as it turns out, we don't have much longer to wait.
Beyond will arrive on PC, Xbox One, and PlayStation 4 on August 14th. Hello Games say that Beyond rolls "three major updates" into one larger release and we've known since the start that enhancements to multiplayer will be one of those big components.
Hello Games hasn't talked much about the changes being made to multiplayer – and in fact, it hasn't talked much about Beyond at all. Perhaps the lead up and subsequent launch of the base No Man's Sky has made Hello Games a little more cautious when it comes to pre-release hype, and for that, we can't really blame it at all. Still, Hello Games does say that Beyond will offer a "radical new social and multiplayer experience which empowers players everywhere in the universe to meet and play together," so it sounds like multiplayer will be changing dramatically.
We also know that Beyond will add virtual reality support to the game, which seems like an obvious feature for something like No Man's Sky. Aside from VR and enhanced multiplayer, we don't really know what's coming along with Beyond, but maybe now that it has a release date, Hello Games will start letting some more details fly.
The company does say that Beyond will be its "most ambitious chapter so far," with content rivaling what was found in the game's NEXT update last summer. Beyond also doesn't seem to be the end for additional No Man's Sky content, as Hello Games also said today that it will "continue to support No Man's Sky in this way for the foreseeable future." We'll keep an eye out for more details on Beyond as we move toward its August 14th release date, so stay tuned for that.