No Man's Sky Atlas Rises update released today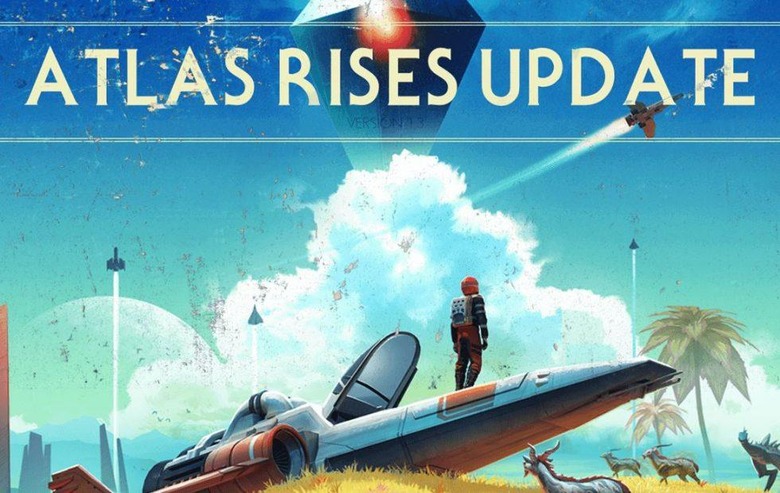 A couple of days back, we heard about a big update called Atlas Rises for No Man's Sky. Yes, it's been almost a year, but despite going silent for a long time after launch, this will actually be Hello Games' third major update for its beleaguered game. When we first heard about Atlas Rises, Hello Games chief Sean Murray spoke only briefly and in general terms about what it will include. Today, with the arrival of the update's patch notes, we're finding out a lot more about Atlas Rises.
As it turns out, Atlas Rises is much, much bigger than Murray initially let on. With all the new features, however, the biggest aspect of this update is likely the additions to No Man's Sky's story mode. Today's patch notes say that Atlas Rises offers 30 hours of new story content, adding a new interdimensional race along with "a new context, quest system and branching narrative."
A new galactic regeneration system will add wealth, economy, and conflict levels to star systems within the game, and the Galaxy Map has been changed to not only reflect these levels, but also to improve navigation as you make your way to the center. On that trip, you'll also find new "exotic plant types" on some planets, with Hello Games saying that the look and variety of biomes have been improved.
We're also seeing the beginning stages of a multiplayer system being put into place with Atlas Rising. You'll now see other players who are exploring the same world as you represented in-game as floating orbs. While Hello Games admits that "interaction with others is currently very limited," you can still communicate with one another through proximity-based VoIP. At some point in the future, we'll see synchronous co-op within No Man's Sky, and this is the first step toward that.
There's a lot more to this update, from new ship designs and UI updates to tweaks to space combat and the addition of terrain editing. You can have a look at the full list of patch notes here. The update has already gone live on both PlayStation 4 and PC, so if you're a lapsed No Man's Sky veteran, be sure to give it a look.