No 720p FaceTime HD for iPad 2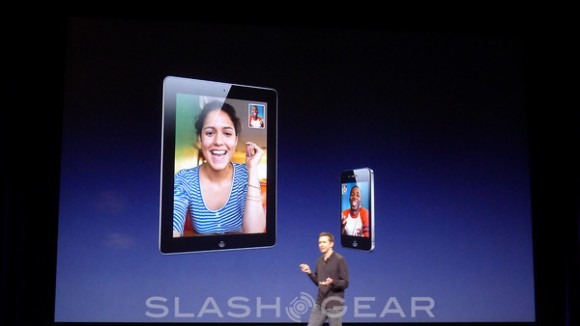 Apple showed off the new slim form of the iPad 2 along with iOS 4.3, A5 chip, faster CPU and graphics speeds and demoed new creativity apps, GarageBand and iMovie, at today's unveiling event that was overall pretty awesome. However, one thing that the iPad 2 truly fails to impress is the uninspiring quality of their front and rear facing cameras which means no 720p FaceTime HD for the new device.
The front facing camera is only VGA quality and can record up to 30 frames per second with audio. VGA quality is only 640 x 480. The rear facing camera is slightly better but still Apple seems a bit evasive on the specs. The back camera can record video in 720p HD up to 30 frames per second with audio and can take still images with 5x digital zoom.
Exact resolution information for the cameras to do a megapixel to megapixel comparison between the iPad 2 and competing tablets may be intentionally omitted. But based on what's been shown, its apparent that the Motorola Xoom's 2MP front camera and 5MP back camera with dual LED flash has got the iPad 2 beat.