Nissan's Ariya crossover EV is concept blasphemy - and all the better for it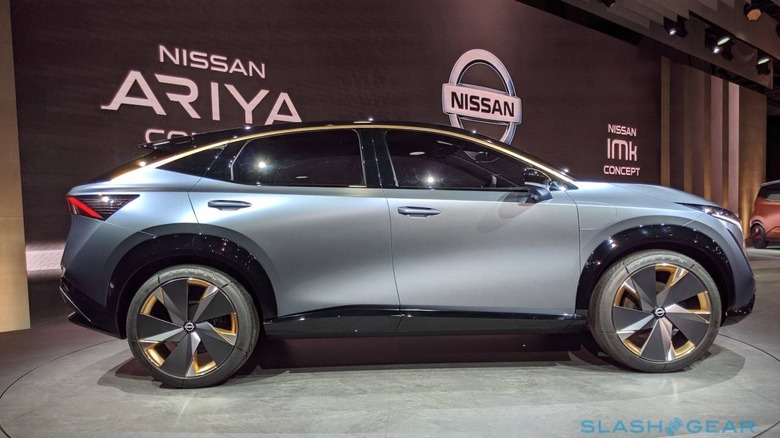 At first glance at the Ariya Concept, you'd be forgiven for assuming Nissan didn't get the motor show memo. Concept cars are typically vast, glimmering slabs of unfeasible excess, draping whiz-bang features around a few core production-minded nuggets, if any. The all-electric Nissan Ariya Concept doesn't do that.
Instead, when it made its debut under the Tokyo Motor Show 2019 lights, the crossover EV looked positively... normal. No gullwing doors, no cabin that resembles a set from Jupiter Ascending, and no flights of fancy about autonomous driving completely relegating humans to passengers any time soon.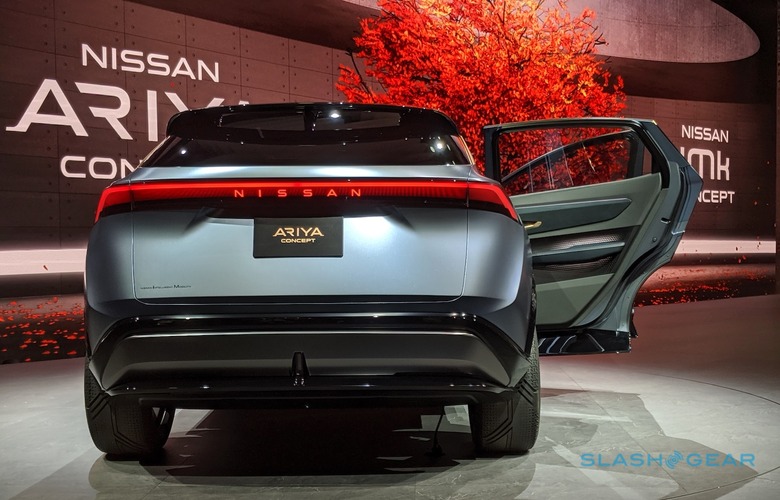 In short it's positively ordinary, and that's just perfect: after all, we're expecting the Ariya Concept to form the basis of Nissan's upcoming electric crossover. For its part, the automaker will only confirm that the interior and exterior elements "could make it into production in the near future." Make no mistake, though, the distance between show car and dealership looks pretty narrow indeed.
Outside, it's a new interpretation of Nissan's design language. Big fenders, super-skinny LED headlamps, and a "front shield" in place of a traditional grille, and which can light up to show subtle, 3D-textured geometric patterns when the electrified V-motion badging is illuminated. It's not just there for aesthetics, either: Nissan uses the panel to accommodate the various sensors and other systems required for its ProPILOT 2.0 driver assistance.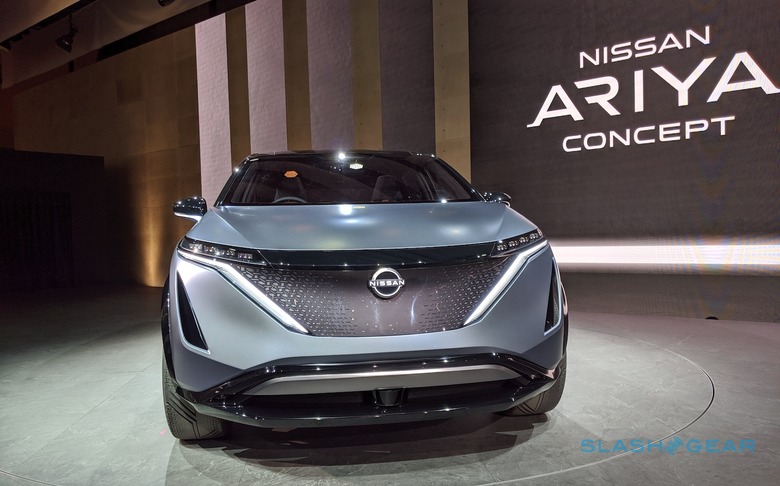 At the back, there are sharp-creases and a raked C-pillar, giving the crossover a coupe-esque roofline. Flared fenders spread around 21-inch wheels, while the Suisei Blue paint looks almost matte at a distance, while closer up you can see the iridescent flake. Nissan combines it with copper highlights, a new finish for the automaker and one it plans to increasingly bring over to production vehicles.
The core shape, however, is eminently production-worthy. Short overhangs and a battery pack low-slung under the cabin help maximize interior space. "The Ariya Concept's EV platform allows for D-segment roominess in a C-segment vehicle," Executive Design Director Satoru Tai explains.
That interior, like the exterior, shows admirable – and manufacturing-friendly – restraint. Haptic touch controls, lighting up when relevant, stud the dashboard; physical controls are limited to a knob for the 12.3-inch display, the climate buttons, and the start button. Black synthetic leather is used on the instrument panel, the door panels, and the pillars and roof lining, while more satin-finish copper pick out the details.
As for the tech, while automakers – Nissan included – often use show cars to preview some distant vision of autonomous driving, the Ariya Concept is more practical. ProPILOT 2.0 supports hands-off single lane driving, with the driver able to let go of the wheel but still expected to monitor the car's operations.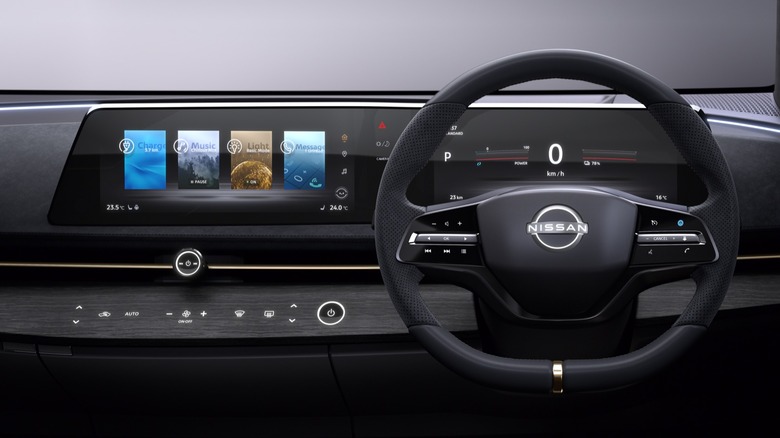 Tap in a destination in the navigation, and Nissan's system can help with passing, lane diversions, and lane exits on multi-lane highways. Even so, the driver is still expected to confirm the maneuver by returning their hands to the wheel and starting the action with a button-press. At the end of a journey, the nav system can highlight available charging locations.
Nissan isn't talking about range for its concept car, nor battery size. However it envisages fast-charging via CHAdeMO, while the car's battery could be used as a power source for homes and businesses – or even selling juice back into the grid – when required. All-wheel drive, with both front and back motors, is expected.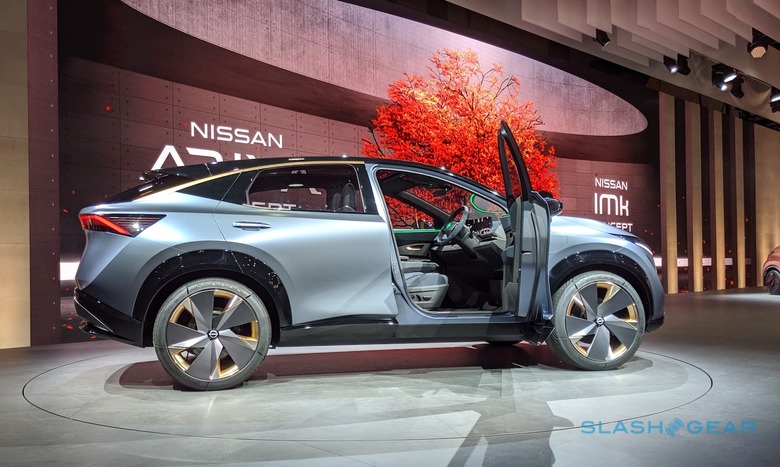 How ready is all of this for production? It doesn't take much examination to see that a lot of what Nissan is showing could readily be passed along to dealership forecourts. When that might happen is unclear, but with the current appetite for both BEVs and crossovers – along with upcoming cars like Tesla's Model Y – it makes sense that Nissan is thinking seriously about its post-Leaf path in electrification.