Nissan Ultimate Parks TITAN And Destination Frontier Give Trucks Overland Upgrades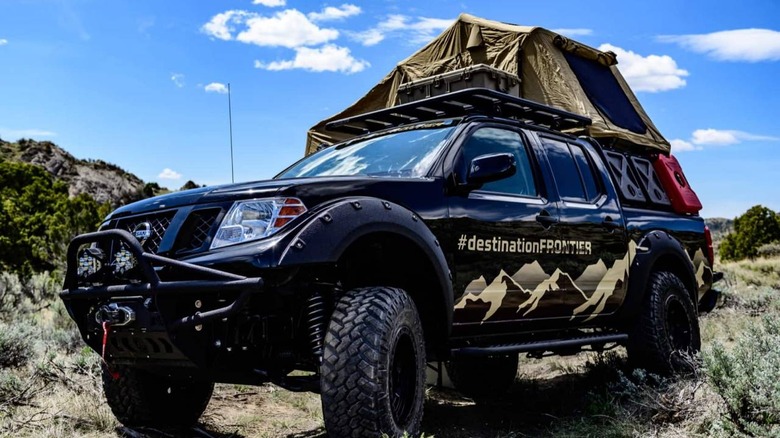 Nissan is cooking up a savory treat for overland fanatics. The Japanese carmaker is set to introduce the Ultimate Parks TITAN and Destination Frontier at the 2019 Overland Expo West in Flagstaff, Arizona. These two trucks are fitted with a plethora of rugged modifications to make them more capable in tackling extreme off-road terrain.
The Nissan Destination Frontier is an interesting one. It's a highly capable overlanding rig that costs less than forty grand. If you know anything about off-roading, getting the right vehicle is the easy part. But modifying the truck for extreme off-road trailing is another story. With tons of aftermarket off-road kits online, it's easy to spend a fortune on the wrong part. But with Nissan's Destination Frontier, you get a capable off-road truck straight from the showroom starting at $40,000.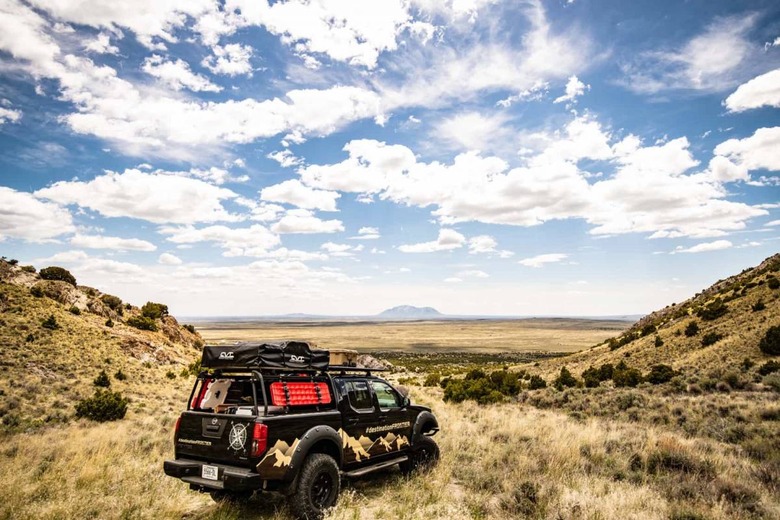 "This special Destination Frontier is designed to do two things: first, demonstrate Frontier's durability, quality, and reliability, even when traveling to remote destinations. And second, to help democratize the overlanding experience by showing a more affordable approach to the sport," said Tiago Castro, director of light commercial vehicles at Nissan North America.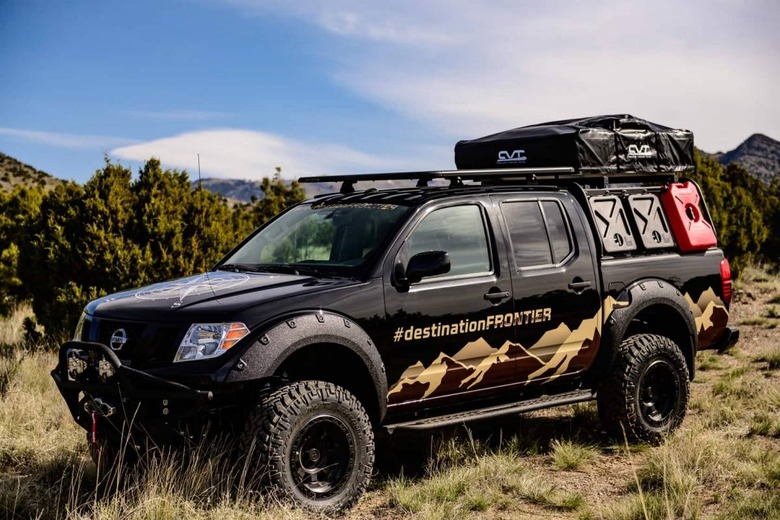 Overlanding might sound new, but it's simply the opposite of an expedition. Where an expedition is a journey with a purpose, overlanding is all about the journey itself. The focus of overlanding is to explore the wilderness rather than purposely falling off a cliff so you can winch your way out. And with that in mind, overlanding demands a tough, reliable, and capable vehicle, whether it be a bicycle, motorcycle, quad-bike, or truck/SUV. Yes, you can overland with any type of mechanized vehicle, and it all depends on you. But if you're a newbie, the Nissan Destination Frontier might be the perfect solution.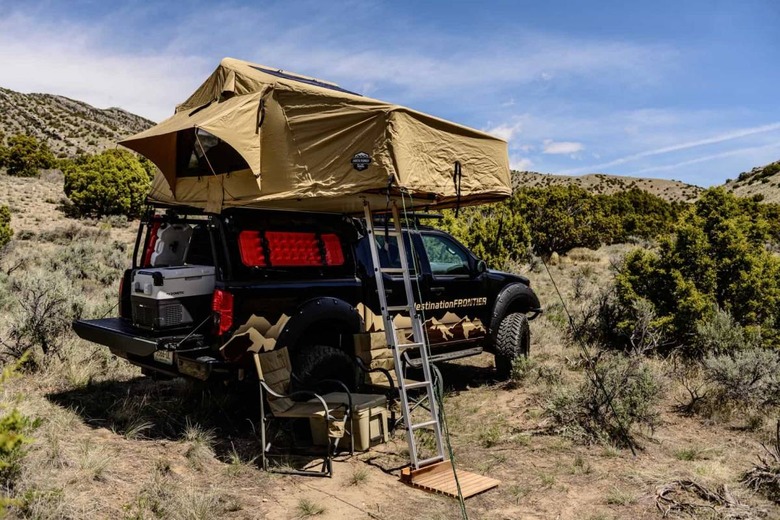 Nissan started with the 2019 Frontier Crew Cab SV 4x4 Midnight Edition. They threw in a Nisstec 3-inch lift kit to enhance the ground clearance of the truck. Nissan is kind enough to include a spanking set of American Racing AX201 wheels and Nitto Trail Grappler off-road tires. Rounding up the look is a new Hefty Fabworks off-road style front-bumper with custom skid plates and rock sliders. The Destination Frontier also gets a Leitner Designs bed rack, a CVT Mt. Shasta rooftop tent, a Dometic fridge/freezer and slider (to keep the beer cold, of course!), Baja Designs LP6 Pro fog lights, and WeatherTech floor mats.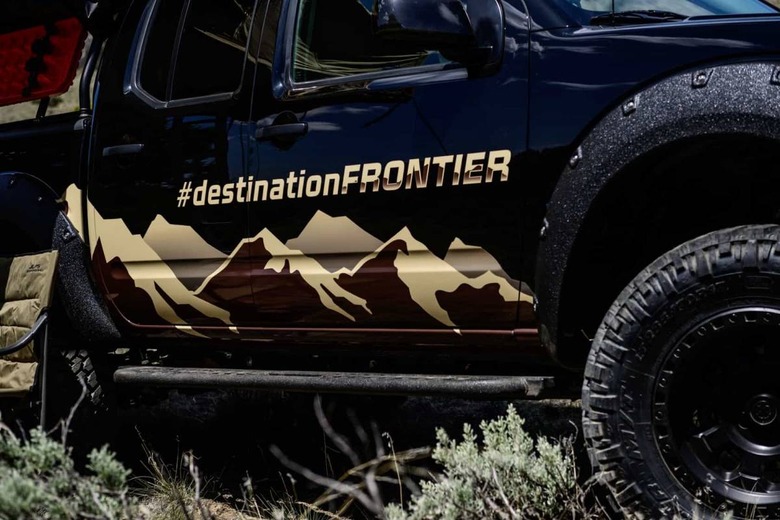 Powering the Destination Frontier is a 4.0-liter DOHC V6 motor with 261-horsepower and 281 pound-feet of torque. When properly equipped, the Destination Frontier can tow up to 6,720 pounds. With prices starting at less than $20k, the Frontier is still the most affordable pickup truck in North America.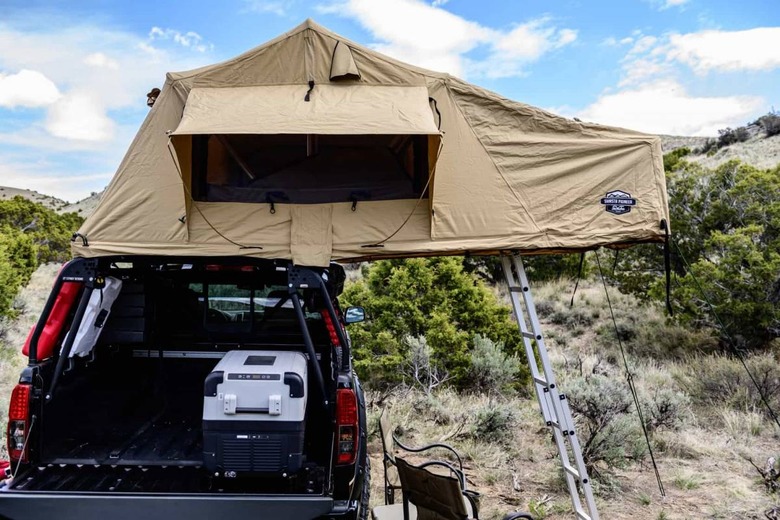 On the other hand, did you know the Grand Canyon is celebrating its 100th anniversary as a national park? Commemorating this glorious event is the Ultimate Parks TITAN, which is an amped up version of the TITAN XD Gas Pro-4X Crew Cab. This truck is specially designed to meet the demands of the Grand Canyon Conservancy. Nissan is donating this monstrous truck to the Grand Canyon Conservancy through Nissan's partnership with the National Park Foundation. "Nissan is proud to support the outstanding work being performed, trail-by-trail, campsite-by-campsite, by partners like the National Park Foundation, Grand Canyon Conservancy and Arizona Conservation Corps," said Castro. "This custom-built TITAN XD 4x4 and trailer should help make their important work in remote areas of the park a little easier, safer and hopefully even a little more comfortable," he added.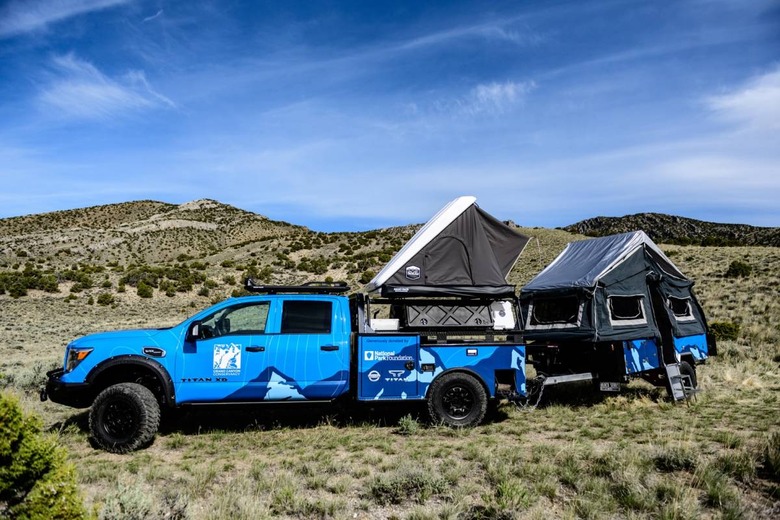 The Nissan Ultimate Parks TITAN is equipped with a 5.6-liter Endurance V8 motor with 390-horsepower and 394 pound-feet of torque. Power is transferred to all four wheels via an advanced four-wheel drivetrain with a transfer case to ensure maximum power distribution. It also receives an advanced electronic locking rear differential to ensure all-season traction on a variety of off-road surfaces, which is essential for a vehicle designed to conquer the Grand Canyon. Standard on the Ultimate Parks TITAN is hill descent control, hill start assist, and a brake limited-slip differential.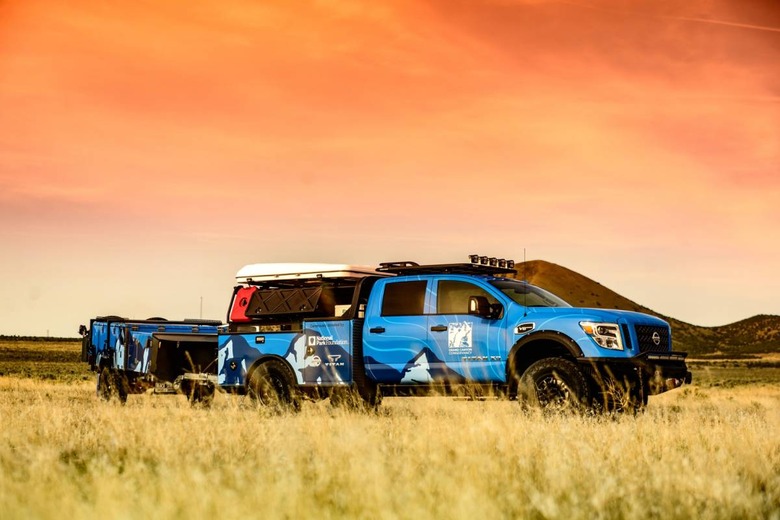 Next, Nissan fitted the Ultimate Parks TITAN with a rugged ICON 3-inch suspension lift kit and Hellwig Air Suspension. Nissan fitted AMP bed steps to facilitate easier ingress and egress, EGR fender flares, and a Rhino-Rack Pioneer Tray. It even gets Method 701 Trail Series wheels and 35-inch Nitto Trail Grappler Tires to complete the all-conquering vibe. The Ultimate Parks TITAN has an extended fully-boxed steel frame to accommodate the custom CM Truck Beds service body. There's also enough room for a secondary 55-gallon fuel tank and RotopaX fuel cell since there are no gas stations in the middle of the Grand Canyon. The trailer even comes with a CVT hard shell tent, Leitner Designs bed rack, Rhino-Rack Batwing awning, and a CargoGlide bedslide.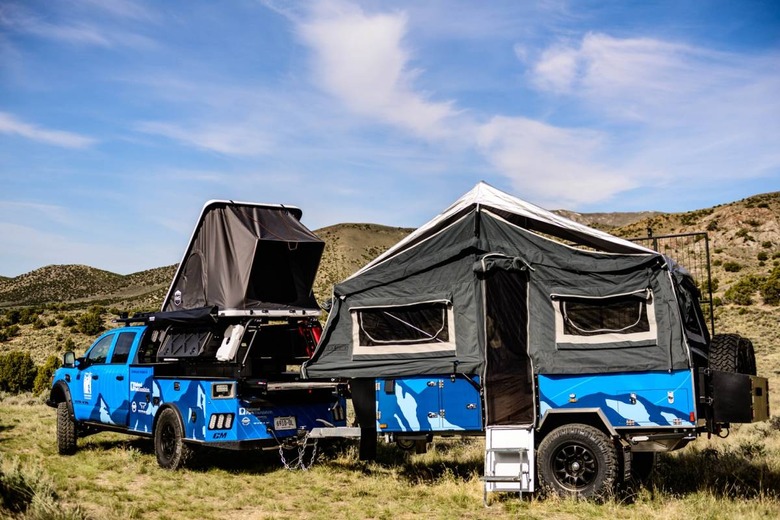 The Ultimate Parks TITAN features a custom body and trailer wrap complete with an Addictive Desert Designs Honey Badger front bumper, a WARN Industries ZEON Platinum Winch, and custom Baja Designs worksite lighting. The service bed contains essential tools like a Miller EnPak welder, generator, and air compressor.
Both the Destination Frontier and Ultimate Parks TITAN will be on display at the 2019 Overland Expo West event in Flagstaff on May 17-19.