Nissan Titan Surfcamp chases the endless summer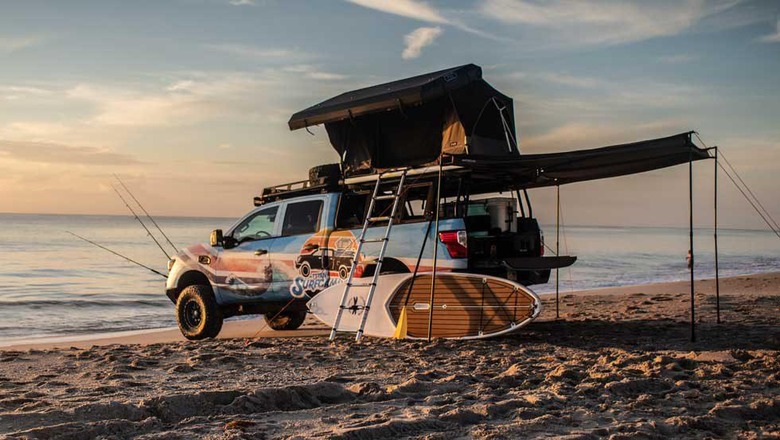 Nissan has rolled out another cool custom show vehicle based on the Titan XD truck called the Titan Surfcamp. This truck is meant to be the ultimate partner for fans of surfing, fishing, and other beach activities. Surfcamp started as a 2018 Titan XD Midnight Edition and was turned into a beach oasis by Nissan.
Surfcamp is festooned with all sorts of summer toys and luxuries for beach trips. It has aftermarket bumpers and wheels and a roof rack along with a tent on the rack on the back of the truck. Plenty of Rigid Industries LED lights are on the truck along with an Icon Stage 5 3-inch lift, paddleboard, surfboards, and off-road tires.
Under all that cool gear is an XD Midnight Edition truck with a Cummins 5.0L diesel V8 engine. The Icon lift kit is available directly through Nissan dealers. The wrap on the truck was inspired by a Hot Wheels car, specifically, the 1971 Datsun Bluebird Wagon called "JNC Surf Patrol".
There are plenty of places to store surfboards and fishing rods. An awning that wraps around the rear of the truck keeps the sun off while beachgoers shower with the solar heated portable shower. A big cooler in the bed of the truck keeps food and drinks cold and at hand.
Nissan will show off the Surfcamp truck at the Supergirl Surf Pro in Oceanside, Ca. July 27-29. This Surfcamp truck is the summer partner to the Snow Patrol Armada that debuted during the winter.
SOURCE: Nissan