Nissan Armada Snow Patrol and 370Zki want to play in the snow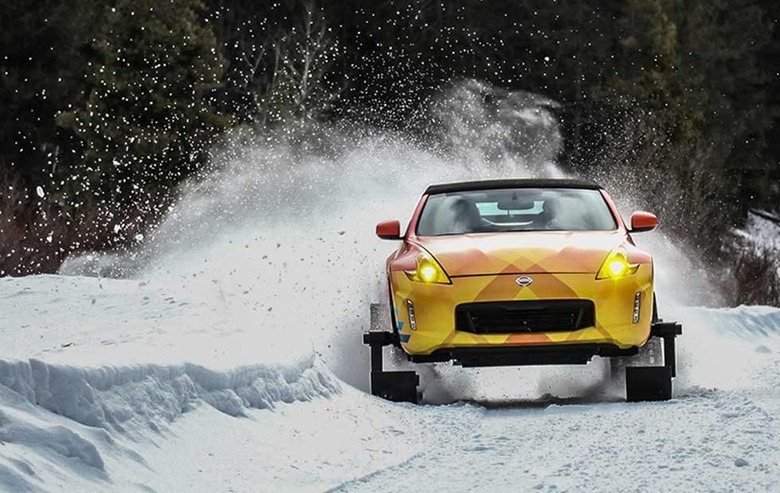 Nissan is showing off a couple cool custom vehicles that will make their debuts at the 2018 Chicago Auto Show. The vehicles are a customized Armada called the Snow Patrol and a custom 370Z with tank treads on back and skis out front called the 370Zki. The Snow Patrol Armada is relatively normal showing off some of the accessories that are out there for the SUV.
The ride has a 3-inch lift, off-road tires, a front bumper with winch, light bar, and a roof rack. Nissan wants people to know that while the Armada will mostly be driven by people as a family car on the roads, it is a capable adventure vehicle. The truck has 35-inch tall Pro Comp MT2 extreme off-road tires and 20x9 Cognito Series 61 wheels with a satin black finish.
The front bumper, fender flares, and roof rack were built by Smittybilt. Most of the other stuff is from Pro Comp with a custom Katzkin interior. The 370Zki is a much wilder beast. This car started as a normal 370Z Roadster packing 332-hp and was modified to tackle the slopes and trails like a big snowmobile.
The car has rear Dominator tracks from American Track Truck Inc. Those tracks required a custom lift kit and several modifications were made to fit the treads under the car. The tracks are 15-inches wide, 48-inches long, and 30-inches high.
All the suspension work, brake system tweaks, and other tidbits are custom and not available to buy off the shelf. The front skis are from American Track Truck as well and are 12-inches wide and 56-inches long. Both these cool Nissan vehicles will be on display in Chicago from February 10-19.